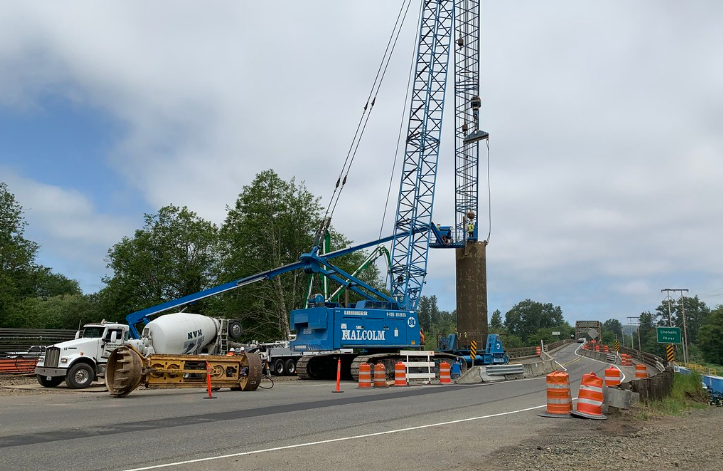 Newly discovered pier settlement on the State Route 107 Chehalis River Bridge just south of Montesano has led Washington State Department of Transportation officials to temporarily close the bridge to travelers next week.
The bridge will close to traffic at Tuesday, Aug. 6 at 8 a.m. and remain closed around-the-clock through 8 a.m. Friday, Aug. 9. During the repairs, travelers will follow a signed detour using US 101 and US 12 around the work zone.
The closure is necessary so that contractor crews working for WSDOT can begin efforts to further stabilize the south end of the approach while construction to rehabilitate the crossing continues.
"The settlement has reached nearly 6 inches," said WSDOT Aberdeen Project Engineer John Romero. "We knew the bridge was reaching the end of its useful life and have already began construction to replace the 200 or so timber pilings with concrete shafts that meet current seismic standards," said Romero. "During this closure, we're focused on fixing the settlement as quickly and efficiently as possible for the safety of the traveling public and our crews – and in order to do that we will have to close the crossing."
When the settlement was discovered, crews immediately development an action plan and installed temporary shoring to keep traffic moving safely across the bridge. However, due to increasingly poor soil conditions, significant settlement has continued during that timeframe and additional shoring and jacking measures are now required to prevent further settlement.
"It's challenging soil to deal with," said Romero. "We recognize the importance of this crossing to the traveling public and appreciate their patience as we work to address this significant issue."
Travelers are currently utilizing the western, single lane of the bridge while the east half of the bridge is being demolished. In spring of 2020, one-way alternating traffic controlled by a temporary signal will be shifted to the east side of the bridge as the process is repeated and the western lane will be demolished and constructed.