Grays Harbor Scanner has 2 different type of advertising programs. On this page, you will find the program type, cost, and information on what the option includes.
If you are ready to get started or have a question contact us today by emailing us by using this FORM.
Website advertising reaches everyone that comes to our website. We have scripts that are in place that will not allow site visitors to visit our website with ad blockers. You can use an already designed up image, or we can help design one for you (additional cost may be charged if we design one for you). The image must be 250 x 300. Each website advertising account will come with 1 Facebook shout per month. Starting September 1st website advertisements are now included in every story and our front page in a random rotation regenerated on every click and refresh. Ads in this category reach about 3,000 - 7,000 people each month. Website advertising is billed in 3 month or annual billing preferred.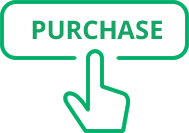 250 x 300 block rotating ad $30 monthly (includes 1 monthly Facebook Shout with no boost)
Top Banner $45 a month (website advertising has no current openings, but we will take waiting list requests)
$30 a month for 2 posts per month or $50 for 4 posts.
In summer of 2016 we started "Facebook" Shouts Announcement Advertisements, where you can advertise your business specials or your business in an advertisement mentioned on our Facebook Page only as a "post" for $30 a month for 2 posts per month or $50 for 4 posts. We will post a designated text and image on selected days on our Grays Harbor Scanner Facebook Page. Reach potentially is dependent on page views, and Facebook wall sharing but can reach up to 6000 people per posting. Take a look at this screenshot on the right for an example - It shows one of our Facebook advertisements that is only 2 hours old with over 2,500 people reached. This is a huge potential to reach new or existing clients. Facebook Shouts can be paid on a month to month basis as compared to our website pricing structure. Starting March of 2017 we will be letting advertisers choose 1 of their Facebook Shouts to "Facebook boost" for an additional $10 and get their advertisement out to more of the Grays Harbor Scanner user base. See more below on the Facebook Boost to understand how this will work for our clients.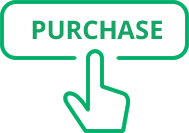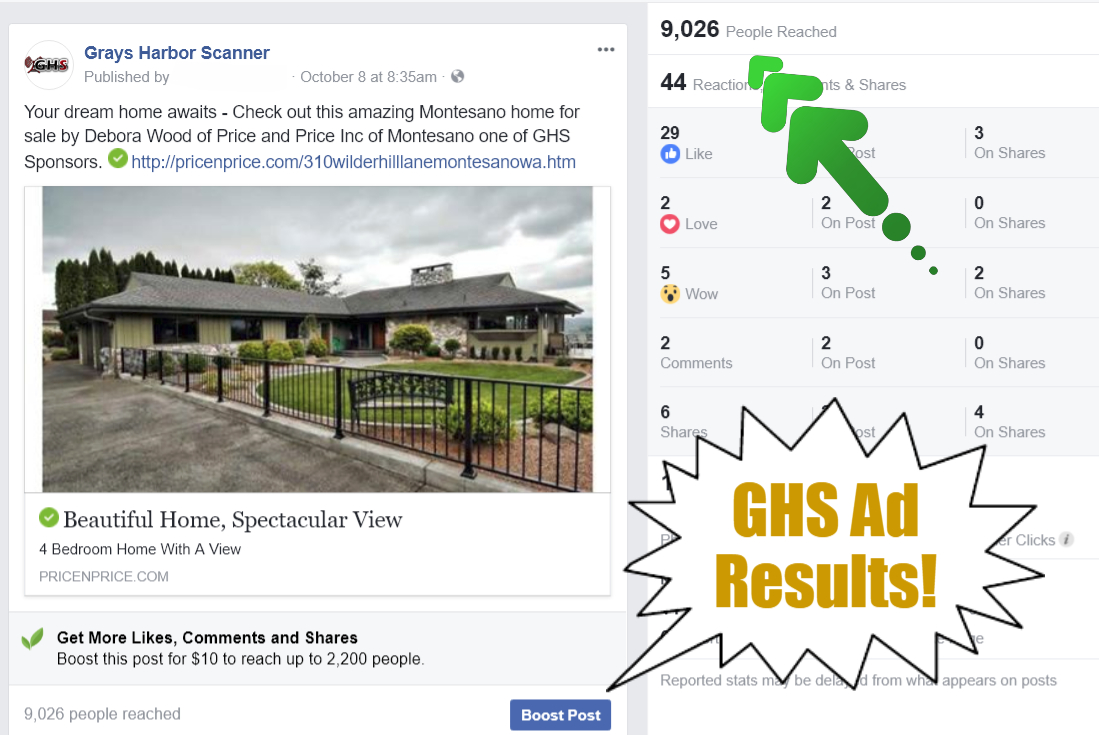 Facebook has an option for page owners to boost certain posts by paying advertising money to them. The boosts give a larger potential reach than a normal post. Facebook gives a page a certain percentage of users that each post will be reached to users wall based on what they call Organic Vs Paid reaches. If a page pays to reach a larger audience above that 10% for example then you can reach 20% of your users. Grays Harbor Scanner has over 29,000 fans and followers so right now the organic reach for any of our posts is about 3,000 - 4,000 fans. When we do a boost we can add an additional 1,500 - 3,000 fans based on how much we as a business pay for the boosts.
Advertisers with GHS have the option for an additional $10 to their advertising with GHS. Your Facebook Shout ad will run on its normally selected day gaining all of its organic hits that it would normally get from Facebook on our reputation. The next day we will then hit boost so that your advertisement will then reach a larger audience outside of the GHS Page.
The boost will go up to $10 within a 4 day period and then run out.