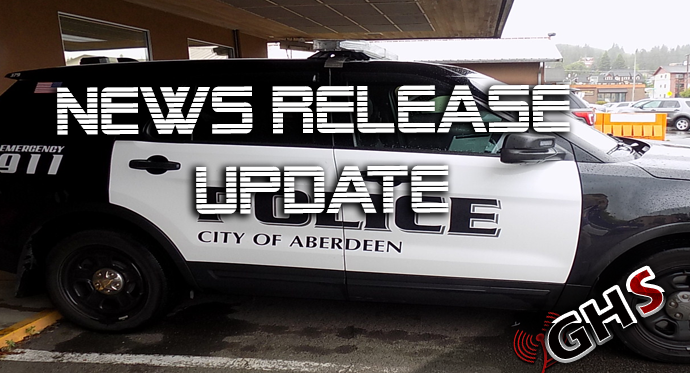 A 49-year-old Aberdeen resident is in custody this morning after a two-and-a-half-hour standoff with police over the weekend in the 1000 block of Thomas St.
Aberdeen Police officials say that on Saturday night at about 7:22pm, Aberdeen officers were dispatched to a burglary complaint in the 1000-block of Thomas Street in Aberdeen. A subject was reported to have forced his way into a vacant house. When Officers arrived at the scene, they could hear a male subject inside the
vacant house, yelling and breaking items.
Officers set up containment around the house and attempted to call the subject out, but he refused. Officers could see the subject through a window and recognized him from several prior law enforcement contacts. As they continued speaking with him, he threatened to kill any officer that attempted to come inside.

Officers observed the male was carrying a long wooden dowel that he was swinging around and using to damage the inside of the property. The male then pushed a refrigerator in front of the door, barricading himself inside the residence, and continued to damage the interior of the house.

Officers on scene continued their attempts to speak with the subject and convince him to come out peacefully, but he refused and ignored all directives from the officers. At one point, he threw a propane bottle out through the window. A K9 unit was requested, and a Grays Harbor County K9 Deputy responded to assist with his K9 partner.

After about an hour of negotiating with the suspect, he briefly came outside with two knives in his hands before quickly returning inside the house.

After continued failed negotiation attempts, Officers advised the suspect that OC (oleoresin capsicum spray) would be introduced into the residence if he failed to surrender peacefully. The suspect ignored directives and after about ten minutes of continued warnings, the OC spray was introduced into the room where the suspect was hiding.

At 9:55pm, about two minutes after the OC was deployed, the suspect crawled out of the house and was arrested without further incident. The suspect was booked into the Aberdeen City jail for Burglary 1 st degree, Malicious Mischief 2 nd , Obstructing a Law Enforcement Officer, and Resisting Arrest.