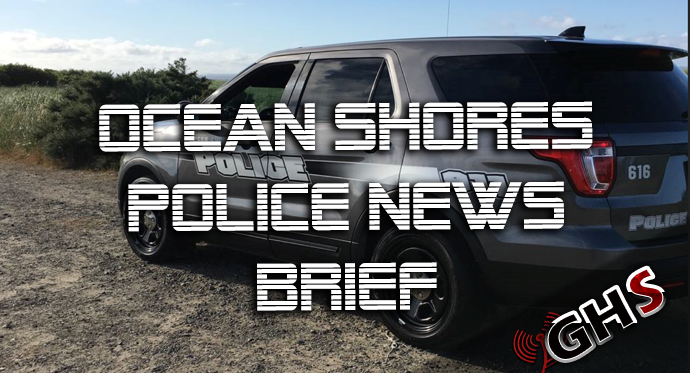 The Ocean Shores Police Department updates us on 2 calls they handled over the past few days. One where they lost capturing a wanted felon, and another where a pedestrian was stuck and severely injured by a passenger vehicle.
***Suspect Eludes Capture***
At or about 5:30 PM on 09/01/23, OSPD officers were in the area of the 700 block of Duck Lake Drive NE investigating a report of a stolen motorcycle when the suspect, a well-known transient male and a felon wanted on numerous charges, rode by on the motorcycle. While the matter of the motorcycle theft was yet unresolved, officers went after the male due to his fugitive status. While checking the area of Duck Lake Drive and Lake View Loop NE, officers located the motorcycle riderless and abandoned along the roadway.

Residents in the area alerted officers a short time later that the male was observed in nearby North Bay Park by the boat launch. As officers approached him there, the male jumped into Duck Lake and swam out to the middle of the waterway.

The police boat was brought in and utilized in an attempt to apprehend the male from the lake, but he was able to swim to shore. He then eluded capture by officers and a K-9 from the Grays Harbor County Sheriff's Department in the woods along the 300 block of Lake View Loop NE
***Traffic Collision with Injuries***
At or about 7:30 PM on 09/02/23, OSPD and OSFD were dispatched to a report of a collision involving a vehicle and a pedestrian near the public restrooms on W Chance ala Mer NW. Upon arrival, it was determined that the vehicle, driven by a fifty-eight-year-old man from Tukwila, was westbound toward the beach into the glare of the setting sun when a fifty-seven-year-old woman from Kent walked out in front of his vehicle and was struck. Although the vehicle appeared to be traveling below the 25 MPH speed limit, the woman sustained significant injuries. She was transported via Life Flight helicopter to Harborview Medical Center in Seattle.