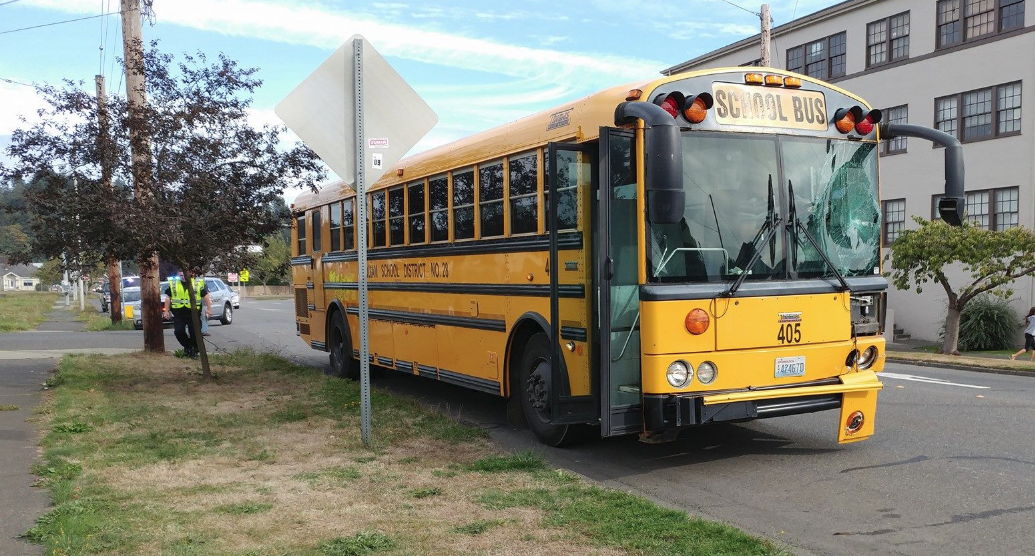 There were a lot of questions today in regards to a school bus involved accident that involved 2 other vehicles that were stopped due to traffic.
Sgt. Jeff Salstrom with the Hoquiam Police Department says that On September 22, 2017, at about 3:09 p.m. Hoquiam police and fire personnel responded to a collision involving two passenger vehicles and a Hoquiam School District school bus that occurred in the 500 block of Emerson Avenue.
Upon arriving at the scene, officers learned there were five passengers on the school bus, all middle and high school students. One of the bus passengers, a 15-year-old Hoquiam girl, complained of head and neck pain. She was treated at the scene and transported to Grays Harbor Community Hospital by the Hoquiam Fire Department for further evaluation and treatment. The driver of a 1999 Toyota
The driver of a 1999 Toyota pickup, a 37-year-old Seattle man, also complained of head, back, and neck pain. He was also transported to GHCH by ambulance. At this time their injuries are believed to be minor. The other students on the bus were transported by district officials to the transportation office to be picked up by their parents.
Through investigation based on the evidence at the scene and from the accounts of the drivers and witnesses, officers determined traffic had stopped on Emerson Avenue.
The bus did not stop and struck the rear of the Toyota pick-up which was then pushed into the rear of a 1997 Mercury, driven by a 26-year-old Hoquiam man. The driver of the school bus, a 40-year-old Hoquiam man, was cited for Following Too Closely. A Commercial Vehicle Enforcement Officer from the Washington State Patrol was also requested to respond to conduct an inspection of the school bus. This is a standard practice whenever a school bus is involved in a collision, as the WSP is in charge of school bus certification. District transportation officials also responded to the scene.