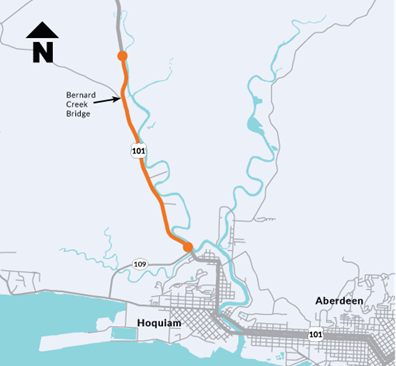 Beginning 6 a.m. Wednesday, May 30, drivers who use US 101 near Hoquiam will encounter around-the-clock single-lane closures through 11:59 p.m. Friday, June 1, as construction crews working for the Washington State Department of Transportation, begin a three-mile pavement preservation project in Grays Harbor County. Preliminary work kicks off by removing asphalt and repairing concrete over the US 101 Bernard Creek Bridge south of Ocean Beach Road.
Following bridge repairs
Paving will resume Monday, June 4, and last through Friday, June 8, between 7 a.m. and 7 p.m. Crews will reduce northbound US 101 between Junction State Route 109 and Ocean Beach Road to a single lane of alternating traffic.
Mid- to late summer
Continuing work in late June, crews will focus on paving the highway. Starting Thursday, June 28, motorists can expect to encounter lane closures each weekday from 7 a.m. to 7 p.m. through summer. No work will occur July 3 through July 5.