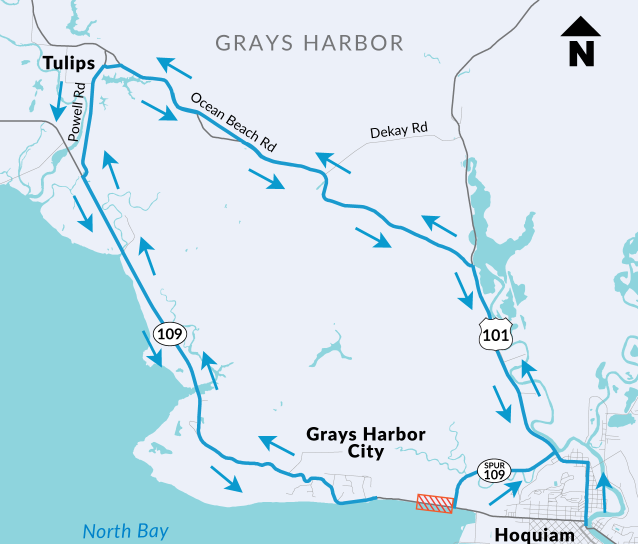 SR 109 near Hoquiam to close around the clock for three weeks March 22
Travelers who use State Route 109 through Hoquiam should factor in extra travel time starting the week of March 20. That's when about a half mile of highway will close in both directions for three weeks west of the SR 109 Spur for slope stabilization work.
Prior to the full closure beginning Wednesday, March 22, there will be daytime lane closures for two days as crews bring in equipment and install signs and fencing.
7 a.m. to 5 p.m. Monday, March 20, and Tuesday, March 21
Plan for travel delays as SR 109 between Grays Harbor Boulevard and the SR 109 Spur will be reduced to one alternating lane of traffic in one direction at a time.
What to expect during three-week closure
At 7 a.m. March 22, crews will close the highway around the clock for three weeks. During the closure, all travelers will follow a signed 13-mile detour via Powell Road, Ocean Beach Road and US 101. This could add up to 30 minutes of travel time for people who live or work just west of the closure when going to and from Hoquiam.
Slide-prone section of highway
A steep limestone hillside above SR 109 has a history of tree-filled debris slides. After a slide, an engineering geologist must inspect the hillside and it can sometimes take several days to clear the highway.
Washington State Department of Transportation contractor crews from Rognlin's, Inc. will remove trees of concern, debris and rocks from the hillside.
This project will help reduce the potential for extended highway closures in the future.