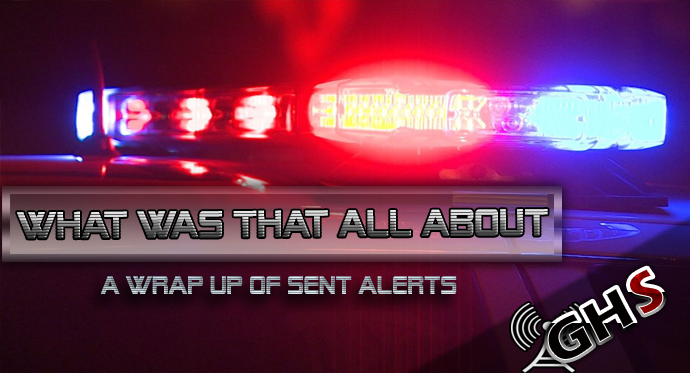 This is a GHScanner What was that all about – a wrap up of alerts that were sent to our GHScanner Facebook and GHScanner App Alerts Subscribers along with alerts that were posted to the public on Facebook.
March 17th, 2023
Hoquiam, report of a 2 vehicle collision at Simpson and 5th blocking with injuries. 815AM

March 18th, 2023
Aberdeen, officers responding to a weapons display 823 W 1st St Male subject with a gun in the residence pointing it at the floor. The suspect just left on a bike towards PAWS. 1200pm UPDATE - May not have been a real gun, officers detained the subject
Aberdeen, EMS responding to a trauma - laceration from a chain saw 4600 block Wishkah Rd. 227pm Also facial lacerations
Aberdeen, EMS on scene CPR in progress bus stop in front of Duffy's 1600 block of Simpson avenue. 413 p.m.
Aberdeen, Report of a single vehicle off-roadway with possible ejections, state route 105 milepost 42. 726 p.m. The ejection part apparently was garbage.
March 19th, 2023
Grayland - WSP trooper out with a disorderly subject yelling in background, heard asking for another officer SR 105 at Bonge Approach. Multiple officers responding. 833AM
Aberdeen, fire being dispatched to a report of a dumpster fire threatening the building H&R Block 1100 block of E Wishkah St. 1005AM (update - flames being reported as tall as the building touching the canopy)
McCleary -Report of a single vehicle off the roadway with the driver ejected with injuries, Mox Chehalis RD MP 5. 1255PM Update - possible spinal injury, airlift being requested. Mox Chehalis RD is being closed at the location.