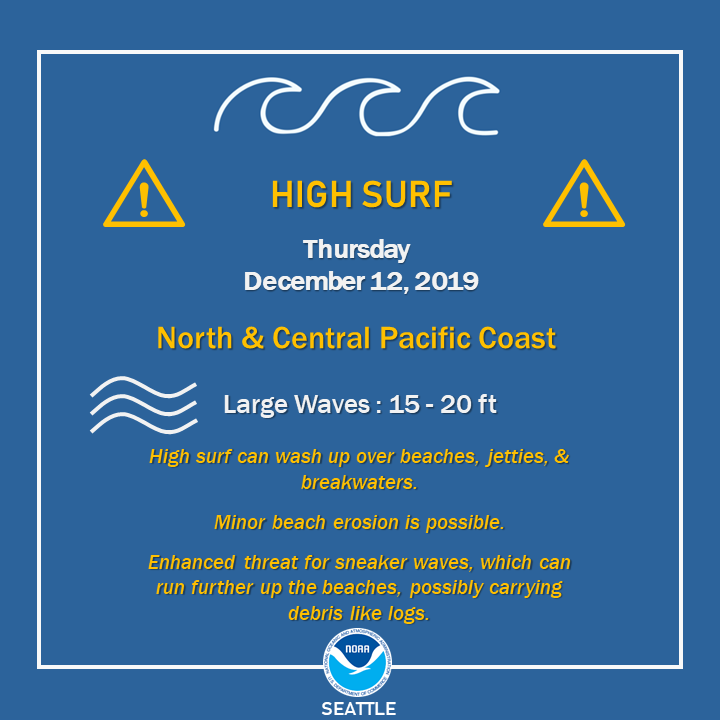 Coastal Hazard Message
National Weather Service Seattle WA
756 AM PST Thu Dec 12 2019
...HIGH SURF ADVISORY NOW IN EFFECT UNTIL 10 AM PST FRIDAY...
* WHAT...Large waves with hazardous surf expected.
* WHERE...North Coast and Central Coast.
* WHEN...Until 10 AM PST Friday.
* IMPACTS...Heavy surf can wash over beaches, jetties, and
breakwaters unexpectedly. People can be swept off rocks and
jetties and drown while observing high surf. Minor beach
erosion may damage coastal properties and buildings. Higher
than normal water run-up is expected on beaches and low-lying
shoreline.
* ADDITIONAL DETAILS...There is also an enhanced threat for
sneaker waves, which can unexpectedly run up much farther on the
beach than expected.
PRECAUTIONARY/PREPAREDNESS ACTIONS...
A High Surf Advisory means that high surf will affect beaches,
producing rip currents, sneaker waves and beach erosion. Stay
well back from the water's edge and be alert for exceptionally
high waves.
Keep away from large logs on the beach. Sneaker waves can run up
on the beach lifting or rolling these extremely heavy logs.
People have been injured after being caught under these logs from
sneaker wave action.