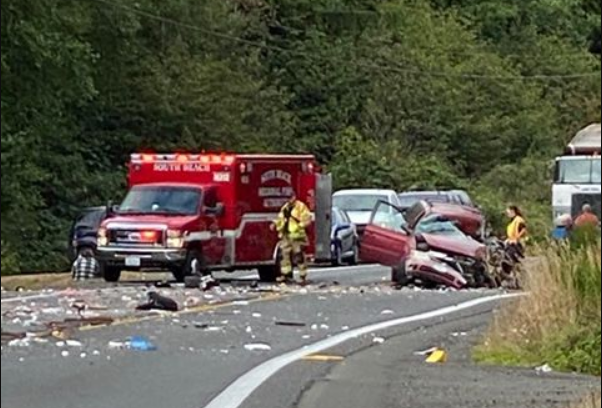 State Route 105 near Blum St near Ocosta in the South Beach area was blocked for 4 hours today after a driver failed to negotiate a curve and collided with another.

According to a Washington State Patrol report a 2007 Red Dodge Grand Caravan driven by a 38-year-old Rochester man was traveling southbound on 105 just north of Plum Road.
The Rochester man failed to negotiate a curve that went to the right, crossed the center line, and struct a travel trailer being towed by a 2017 GMC Sierra driven by a 61-year-old Mattawa man.

The Rochester man and his passenger a 42-year-old Rochester man were both transported to Community Hospital for their injuries. It was not disclosed which occupant was the more severe, however, fatality was not mentioned at the time of the report indicating both with injuries and alive contrary to social media rumors.

cause of the accident is still under investigation and charges pending however, the report does indicate that alcohol and or drugs were involved.