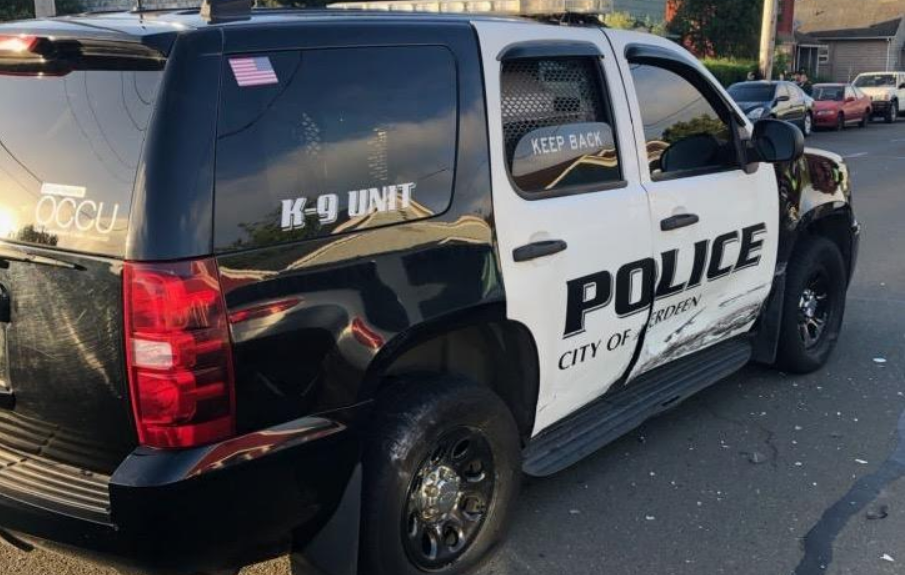 A 30-year old Aberdeen man is in the Aberdeen City Jail Sunday evening after crashing into an
Aberdeen Police K-9 vehicle and fleeing the scene. Just before 8:00 PM (June 28 th ) Aberdeen
officers were dispatched to the area of the 1500 block N. B St. for a reported recklessly driven
vehicle. K-9 Officer Chad Pearsall and his partner "Ronin" were driving eastbound on E. First St.
(in their 2013 Chevrolet Tahoe) heading toward the call when they were struck broadside, on
the passenger side, by a white 1990 Honda Accord. The Honda failed to stop at the northbound
stop sign on N. C St. crashing into the passenger side of the marked patrol vehicle.
The Honda fled the scene northbound on C St., and turned eastbound into the alley between
First and Second Streets, before the 30-year old jumped out and fled the vehicle on foot. Ofc.
Pearsall deployed his K-9 partner and began a track of the suspect, which lead them to a
residence in the 800 block of E. First. A short time later the suspect was taken into custody and
booked into the Aberdeen Jail.
Ofc. Pearsall was taken to Community Hospital for check-up before returning to work a bit sore.
K-9 Ronin was not injured during the collision. Their patrol vehicle sustained significant
passenger side damage. Investigators had E. First blocked off through the area until just before
11 PM while they worked the scene.