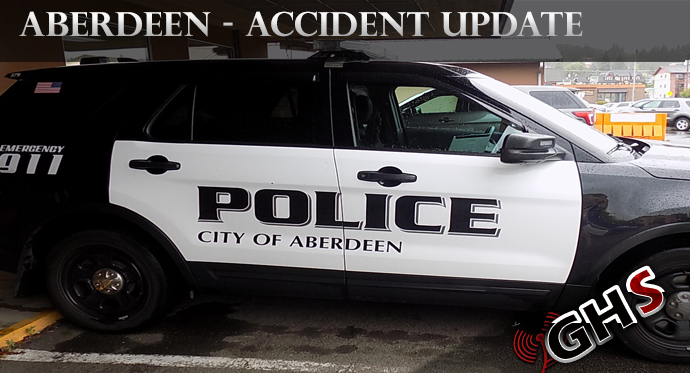 Update - The Aberdeen Police Department Just made a statement that Information developed yesterday afternoon took detectives to a Hoquiam address last night where the suspect (a 23-year old Hoquiam man) was taken into custody minutes after midnight. The vehicle has been seized and brought to the Aberdeen Police station for a search warrant. They want to thank everybody who has reached out with helpful information.
A 71-year old east Aberdeen woman died late this morning at the Grays Harbor Community Hospital following a motor vehicle collision. Just after 7:30 AM this morning Aberdeen Police officers and the Aberdeen Fire Department responded to a report of a pedestrian being struck by a pickup truck at the intersection of E. First St. and N. G St. The pickup reportedly left the scene eastbound on First St.
Emergency responders arrived on scene moments later to find the victim laying on E. First St. just east of the crossway near the center of the roadway. Collision investigators and members of the FARO imaging team (including a GHSO deputy Sheriff) responded to assist with the investigation. Witnesses have begun to come forward and assist investigators with piecing together the details. The roadways remained blocked until just before 11:30 AM.
The Aberdeen Police Department is seeking the community's assistance. This collision occurred during the early morning school commute. We are asking anybody who may have witnessed the events leading up to the collision, the victim being struck, or the suspect vehicle leaving the scene; please contact Detective Jeff Weiss (360-538-4452). It is possible the striking driver was unaware they struck a pedestrian. Preliminary information indicates the striking vehicle may be an older model dark colored Ford or Chevrolet pickup truck. The investigation is ongoing.