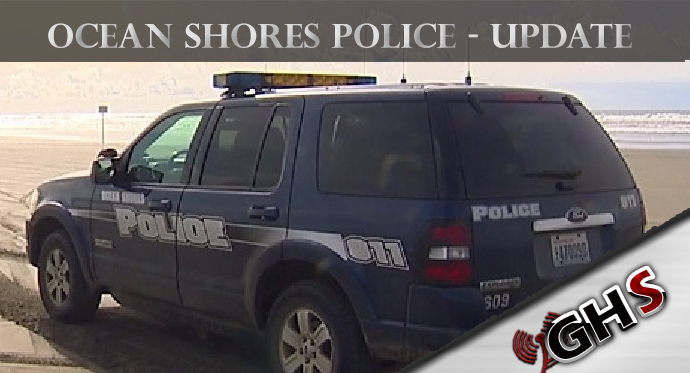 Ocean Shores has had a pretty tough weekend already, now the police department says that an Ocean Shores Officer was injured during an attempt to arrest a burglary suspect on Sunday morning.
Ocean Shores Police;
At 1:30 am on October 8, Ocean Shores PD was dispatched to a burglary alarm at Beach Treasures on Pt. Brown Ave. NW. The responding officers, Sgt. Vierra and Officer Church were on scene in a few minutes and found a window had been broken out on the business.
The business owner checked the video surveillance, which showed a large-framed male break out the window and climbs inside, then flee when the alarm went off.
Within a few minutes, Sgt. Vierra found the subject he had seen on the video walking near the Shell station. The suspect was accompanied by two juvenile males, who were both cooperative.
The burglary suspect, however, fought when the officers attempted to handcuff him. The suspect hit Sgt. Vierra several times in the torso. A TASER and baton were used in attempting to arrest the suspect. At one point, the suspect ripped the baton out of the sergeant's hand, then hit him on the wrist with it.
After a considerable struggle, the suspect was handcuffed. After that point, he was cooperative.
Sgt. Vierra was transported to Community Hospital by ambulance, with injuries to both hands, his wrist, and pain in his ribs. At the hospital, it was determined that there were no broken bones, and he was released. He will be unable to work for at least several days.
The suspect, an 18-year old Ocean Shores resident, was booked into the County Jail on charges of Burglary 2 and Assault 3 (Assault of a Police Officer). Both crimes are felonies, and the Prosecutor's Office will decide what charges will be filed with Superior Court.
The Juvenile Prosecutor will determine if any charges will be filed against the two juveniles as possible accomplices to the burglary.