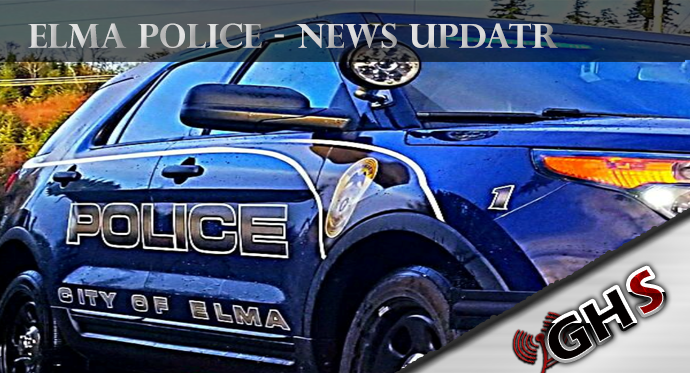 Elma. Police Chief Susan Shultz said in a press release this morning that at approximately 3:00 am, an Elma Officer was dispatched to the 1700 block of W. Main Street, for a reported burglary in progress. The homeowner reported their front door had been kicked in.
Officers from the Grays Harbor Sheriff's Office, Montesano Police, and McCleary Police responded to assist. While investigating the first reported burglary, officers were dispatched to a second burglary in progress in the 100 block of N. 9th. The homeowner later reported the suspect kicked the front door in, the homeowner armed himself and checked the home to discover the suspect pointing an AK 47 at him.
While officers were responding to the second burglary, they were dispatched to a third burglary in progress in the 600 block of W. Young Street. The Elma Officer located a male in the 500 block of W. Young who was holding a rifle. The male was ordered at gunpoint to show his hands, the male refused and disappeared between parked vehicles.
As officers set up a perimeter, they were dispatched to a 4th burglary in progress in the 500 block of W. Waldrip. As the reporting believed the suspect was still inside, officers prepared for a K-9 search of the home.
Officers were then dispatched to the 300 block of S 4th Street for a reported robbery. The victim reported the male suspect stole the keys to their vehicle at gunpoint. Officers responded to the scene and located the 37-year-old Shelton Man in the driveway of the residence. The male resisted and it took several officers to take him into custody.
The male had gained access to the victim's vehicle. Officers located an AK-47 in the vehicle with a loaded magazine inserted and one round in the chamber. It was discovered later the male was ineligible to possess firearms.
During the arrest, the male obtained an abrasion; he was transported to Summit Pacific to be cleared for booking. While at the hospital, the male became combative and injured the Elma Officers. The male was arrested for 5 counts of Burglary in the 1st degree, Robbery 1st. Assault 1st degree, Assault 3rd and Unlawful Possession of a Firearm.
Anyone with additional information is urged to contact the Elma Police Department at 360-482-3131.