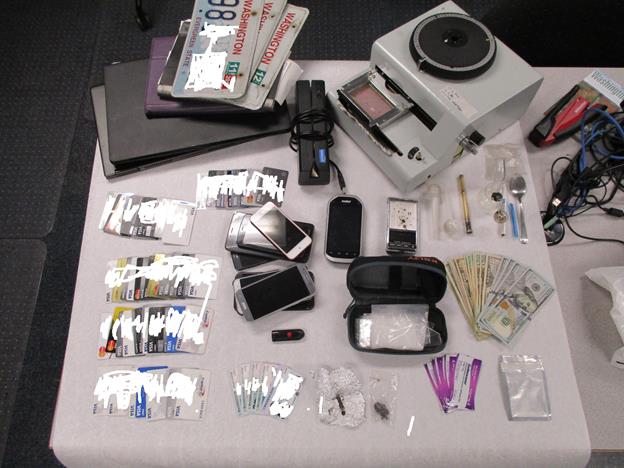 We have an official update to a high-speed pursuit that occurred last week that caused an caused accident by the fleeing vehicle. Darla Sauers says her van had about $7000 damage.
WSP Shelton—A Mason County trooper's traffic stop September 20th around 10:38 A.M. for speeding on US101 quickly turned into a high-speed pursuit of a stolen 2002 Lexus sedan and eventually ended safely with the arrest of two suspects on multiple felony charges. A laundry list of additional crimes is under investigation including felony drug crimes, identity theft, financial card theft, stolen checks and possession of financial card altering equipment to name a few.
The pursuit, which started out on north bound US101 near Cloquallam Rd, lasted approximately eight minutes with speeds reaching 120+ mph and the suspect vehicle passing vehicles on the shoulder. Troopers attempted to spike the vehicle's tires near SR3 and US101 but the attempt was unsuccessful. The suspect vehicle exited north bound US101 at Wallace Kneeland, running a traffic signal and proceeded south on US101 at speeds excess of 100 mph. After exiting to west bound SR108 the vehicle attempted to pass several vehicles, causing a non-injury collision between 3 motorists at which point the pursuit was discontinued.
The Washington State Patrol wishes to thank officers from the WDFW, the Mason County Sheriff's Office and K9 "Solo" for a job well done and outstanding TEAM effort.
The suspect vehicle was later located by a WDFW officer near west Elk Ridge Rd and west Hurley Waldrip Rd. and a male subject was detained. With the assistance of the Mason County Sheriff's Office K9 "Solo" another female suspect was located in the wooded location nearby. Mason county deputies transported the female to the Mason County Jail after receiving treatment for dog bite. The 28 year old female also had $28,000 in outstanding misdemeanor warrants.
A search warrant was obtained for the vehicle and troopers recovered one ounce of methamphetamine, five grams of heroin, six Suboxone strips, $656 cash, 70+ fraudulent debit and credit cards, stolen checks, false ID cards, multiple smart phones, financial card altering equipment, evidence of identity theft and financial card fraud and drug crimes. Troopers and detectives are in the process of determining the number and identities of possible victims as well as possible additional felony charges.