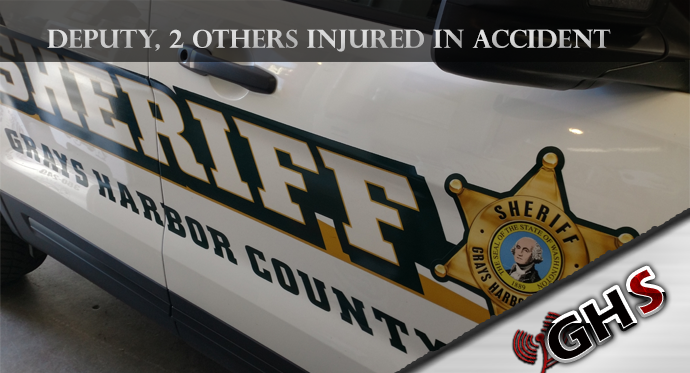 The Washington State Patrol had State Route 109 at milepost 18, 2 miles north of Ocean Shores blocked for 6 hours and 19 minutes Saturday evening for an accident investigation that sent 3 to Community Hospital, one being a Seargent with the Grays Harbor County Sheriffs Office.
The accident occurred on Saturday, September 16th, 2017 just before 8 PM on State Route 109 Milepost 18 (Ocean City).
A Grays Harbor County Sheriff's Seargent was traveling northbound on 109, the second vehicle involved a purple 1997 Jeep Grand Cherokee SUV entered the highway making a left-hand turn failing to yield to traffic. The Sheriff patrol vehicle struck the Jeep Cherokee rotating it and came to rest in the southbound ditch. The Cherokee remained in the roadway.
According to radio traffic from the Grays Harbor Scanner Online Feed Archives, the Deputy Seargent radioed up calling in the accident asking for EMS and additional officers to respond to assist. Other officers arriving on scene called in advising that one person had been trapped in the vehicle and another that had been ejected from the Cherokee.
Initial Accident Call
The driver of the Cherokee, a 34-year-old Ocean Shores Woman was transported to Community Hospital for her injuries, as well as a passenger in that vehicle a 48-year-old Hoquiam woman. A comment to the Grays Harbor Scanner Facebook Page indicated that the Hoquiam woman had sustained some serious injuries but is unverified. A 3rd passenger in the Cherokee a 22-year-old Ocean Shores man was released at the scene as non injured.
We have heard that the deputy sergeant a long time veteran of the Sheriffs Department was transported to Community Hospital for injuries and is doing ok. Members of his family thank everyone for their positive thoughts and prayers.
The Washington State Patrol says that the cause of the accident and any charges are still under investigation. Drugs or alcohol being involved are currently unknown.