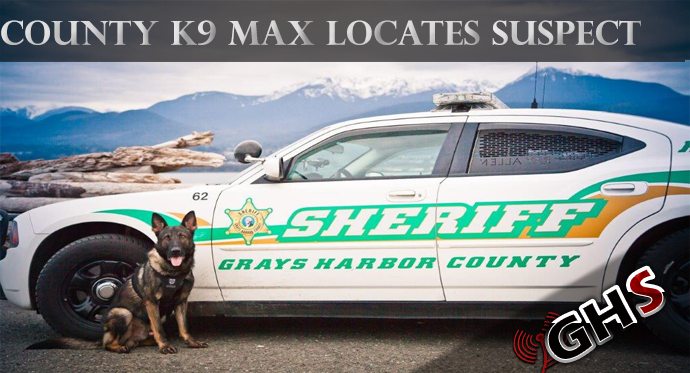 There was a bit of a stir Saturday night in east county by the fairgrounds near Elma with police activity after witnesses called in a possible burglary. This time, one of the suspects was apprehended by the county k9 deputy.
On 09-01-18 at approximately 8:20 P.M. deputies were dispatched to a possible burglary in progress.
The first deputy arriving on scene observed someone flee from a vehicle that did not belong at the residence.
Suspects were seen loading a pickup with a pool table from the residence, with witnesses also reported that they saw three people fleeing from the scene.
After determining it was an actual burglary K-9 Max was requested to attempt to locate the suspects.
K-9 Max with his handler Deputy Gay tracked a suspect from the scene to an area covered with large blackberry bushes. K-9 Max indicated that the suspect was hiding under the berry bushes.
The suspect was given a warning to surrender and come out voluntarily, but the suspect refused to come out from the berry bushes where he was hiding.
K-9 Max entered the brush pile and captured the suspect who had buried himself under bushes.
The suspect was treated for minor injuries at the hospital after K-9 Max took a bite out of crime.
The suspect was a 32-year-old transient from Shelton who was booked into the Grays Harbor County jail for an outstanding felony warrant and new residential burglary charges.
Detectives are attempting to locate the other two suspects involved in the burglary.