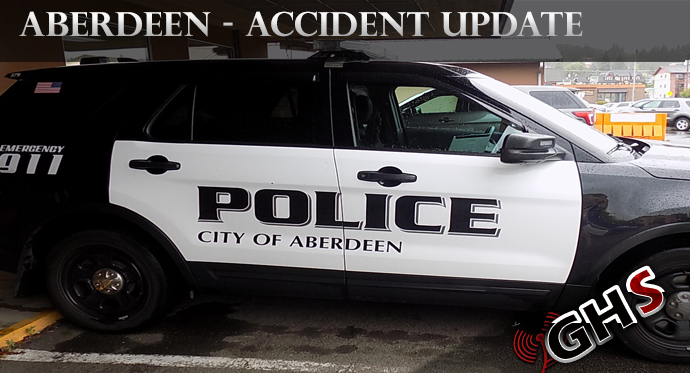 First posted as an alert on the Grays Harbor Scanner Facebook page, the Aberdeen Police Department now tells us that a white Chevy pick-up ran the red light striking the pedestrian and fled the scene, the suspect later called and turned himself in.
More on this from Lt. Darst with the Aberdeen Police Department.
Aberdeen Police Officers were dispatched to a Hit and Run Injury Accident at 112 N. Boone Street about 6:41 P.M. on August 16th, 2018. They were advised that a pedestrian was just struck at the Boone and Scott Street intersection and that CPR was in progress for the female victim.
Aberdeen Officers and a Cosmopolis Officer responded and contacted multiple witnesses who said the victim, a 27-year-old woman with a Hoquiam address was crossing the intersection on Boone Street from the park side heading towards Swansons with her boyfriend, a 27-year-old man with an Aberdeen address.
They were in the crosswalk when a White Chevy Pick-up ran the red light and struck the victim with the front of the pick-up causing the victim to be thrown forward.
Witnesses stated that there was only a male driver in the vehicle and that after striking the victim, the male driver continued rolling forward and drove over the victim and then drove from the scene in a hurry. Witnesses tried to follow the vehicle but lost sight of it.
One witness performed CPR on the victim until the Aberdeen Fire Department arrived and took over. The victim was transported to Grays Harbor Community Hospital and later transported to Harborview Hospital in Seattle. There are no updates at this time on the status of the victim.
The Police Officers started their investigation of the scene and looking for the suspect. A Hoquiam Police Department Officer also assisted with the investigation. A while later, Sgt. King was notified that the suspect had contacted dispatch and wanted to turn himself in.
Sgt. King and other officers responded to a South Aberdeen address and contacted the suspect, a 23-year-old man with an Aberdeen address was taken into custody and booked into the Aberdeen Jail without incident.
The suspect was completely cooperative with the investigation and provided a written statement of his account of the accident. The suspect admitted to running the red light and striking the female victim. He stated that he panicked and fled the scene. He contacted family members and made the decision to turn himself in. The investigation is on-going at this point.