Picture Is Of Actual Suspect Vehicle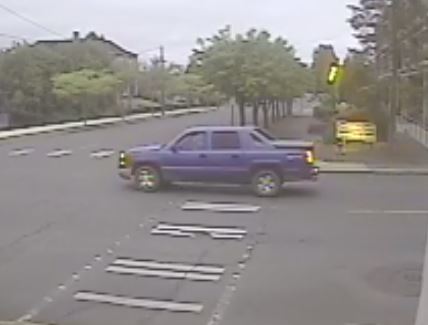 Last night around 2000 hours, a light-skinned possible Hispanic male mid 20's to early 30's attempted to abduct a 20-year-old female as she was walking in Montesano near Church and McBride. The male is described as 6 foot, thin build with short black hair. Montesano Police Department is looking for a 2002 to 2013 Blue Chevrolet Avalanche four door pickup with tinted rear windows and chrome or aluminum wheels. Persons with information should call 911 or Montesano Police Department 360-249-1031
Pic actual picture of suspect truck.
The Montesano Police Department is asking for the publics help in identifying the truck pictured and the person that would have been with the vehicle last night May 16th around 8:00 PM, when an attempt to abduct a 20-year-old female as she was walking in Montesano near Church and McBride.
Here is more from Lt. Jay Staten of the Montesano Police Department.