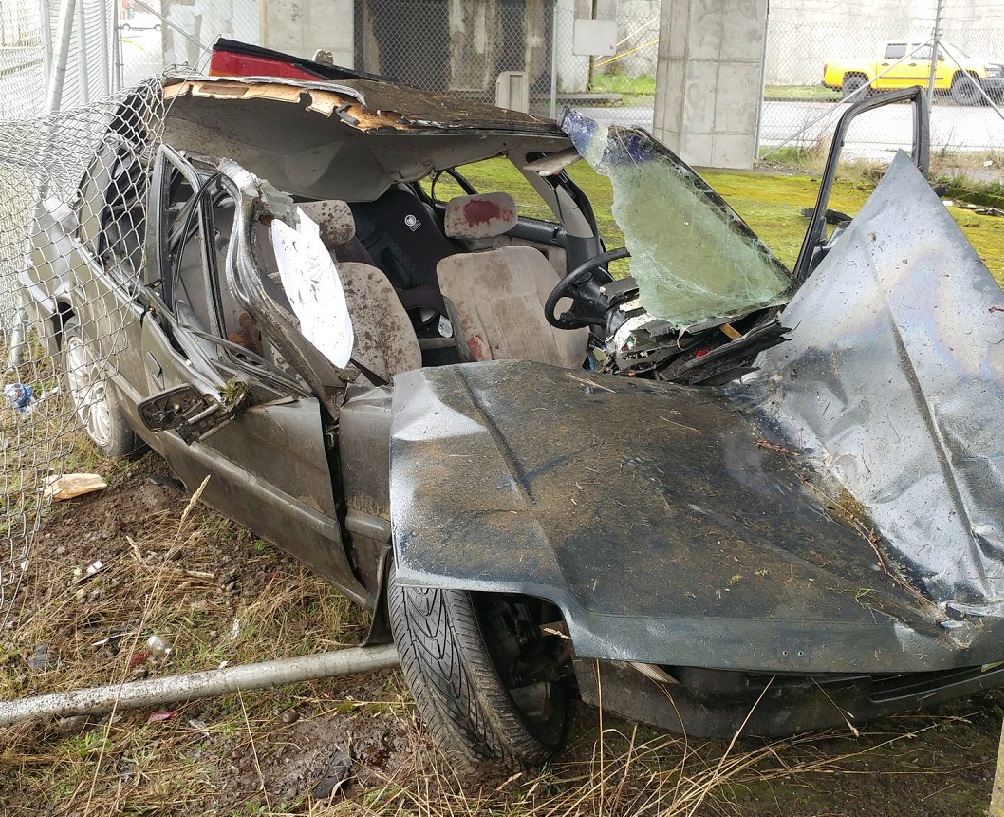 We have an update this evening on an incident we first alerted on the Grays Harbor Scanner Facebook page earlier today. 2 local area residents were critically injured in a rollover accident underneath the Chehalis River Bridge in Aberdeen.
This is what we have this evening from the Aberdeen Police Department in a press release. Photos at the end of the article provided by APD.
At about 11:00 AM Tuesday, February 6th, Aberdeen Police, and Fire responded to a reported one vehicle collision in the 300 block E. State St. The initial caller advised a female was ejected, and the vehicle reportedly struck some kind of concrete barrier.
Officers arrived moments later to find 2 south Aberdeen residents, a 22-year-old woman, the passenger on the ground outside the vehicle, being helped by witnesses. The 51-year-old driver, the mother of the 22-year-old remained in the 1991 Honda Civic, which was partially tangled in a chain link fence. Both the driver and passenger were critically injured.
In a report on 2/7/2018 it was said that both women were flown out to Harborview for their injuries from Community Hospital.
Preliminary investigation indicates the vehicle was eastbound on the separated side of State St. next to the State St. on-ramp. The vehicle was travelling at a high rate of speed. After failing to stop for the stop sign and crossing H St., the vehicle failed to negotiate a tight northbound bend in the roadway, jumped the curb and crossed the large gravel area between H and G St. The vehicle was in slight northeasterly bend as it crossed the gravel lot before striking a 2,400 lbs. jersey barrier. The impact vaulted and rolled the Civic counterclockwise in the air, and the passenger was ejected from the vehicle. The vehicle continued eastbound striking a Department of Transportation fence before coming to rest (on the wheels) facing southbound below the northbound Chehalis River Bridge downgrade to Heron St.
Aberdeen Fire rendered emergency medical care, and both driver and passenger were quickly transferred to the hospital in critical condition. There were multiple witnesses to the collision, who were interviewed. The investigation limited access to the area until about 3:10 PM. The investigation is continuing.