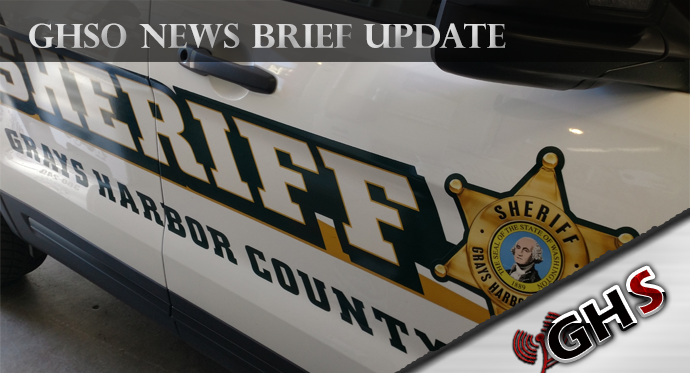 We have an update to an incident where we first alerted our page fans on our Facebook page on Friday evening where a Westport Officer was assaulted by a man at a mobile home park in the 1800 block of South Montesano Street of Westport on the scene of a report of a disorderly person.
This in, Monday afternoon from Chief Criminal Deputy Shumate of the Grays Harbor Sheriff's Office;
On Frida, January 26th at approximately 6:00 pm, Sheriff's Deputies responded to a disorderly man at a mobile home park in the 1800 block of South Montesano Street of Westport. The man was yelling and screaming in the park, pounding on the side of his travel trailer, and threatening to shoot somebody. At the request of the Sheriff's Office, Westport Police also responded to the call, with one of their officers arriving on scene first.
The Westport Officer located the man and when the officer attempted to contact the individual, the man immediately became violent and fought with the officer. The man damaged the officer's taser during the altercation and then fled into his travel trailer. Other officers with the Westport Police Department as well as Sheriff's Deputies arrived on scene. The first Westport Officer on scene did receive a minor injury to his hand during the altercation.
The deputies and officers on scene attempted to convince the man to exit his trailer however he refused. The patrol sergeant for the Sheriff's Office who had arrived on scene was familiar with the man, a 39 year old Westport resident. The sergeant was aware that the man had mental health related issues as well as ties to Pacific County. The sergeant called the Pacific County Sheriff's Office and was able to gain more information from them as well as family members in Pacific County.
At approximately 8:00 pm, officers entered the trailer and the man started throwing objects at them. The man was taken into custody however fought with the officers throughout their contact with him. He also attempted to prevent the officers from taking him to a patrol vehicle.
Due to the deployment of a taser on the suspect at his time of arrest, as well as receiving a minor cut to his face, aid was called to the scene to perform a preliminary medical evaluation on the subject. The man was then transported to Grays Harbor Community Hospital where he was medically cleared for incarceration. The man was transported to the Grays Harbor County Jail and booked on two counts of Assault 3rd degree as well as malicious mischief for intentionally damaging the taser from the first officer on the scene. It should be noted that the man also had a confirmed warrant out of Pacific County for a driving offense.
We are thankful that the Westport Officer, as well as the suspect only, received minor injuries. And we again appreciate the assistance from the Westport Police Department.