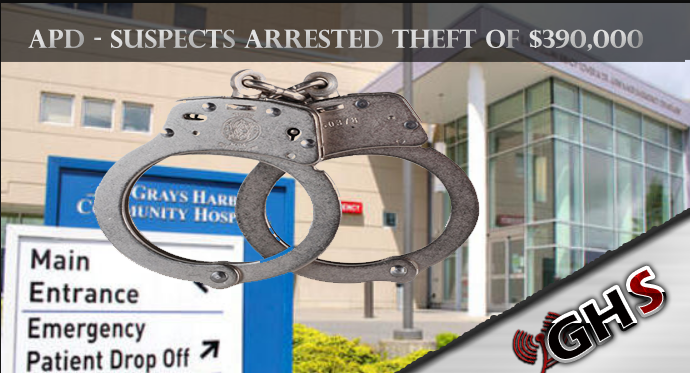 The Aberdeen Police Department announced on Monday, January 22nd, 2018 that they had arrested a mother and daughter that had been employed with Grays Harbor Community Hospital who jointly stole $390,000 from the hospital during their employment using the mother's position at the hospital.
Here is that press release from the Aberdeen Police Department:
In April 2017, The Aberdeen Police Department was asked to start an investigation for Grays Harbor Community Hospital / Grays Harbor Physicians Services of an internal theft that had occurred.
In July 2017, a forensic accountant audited the payroll for the hospital which revealed that more than $390,000 had been taken through direct deposits and fraudulently written checks.
The forensic audit and the Aberdeen Police Department were immediately able to identify the suspects involved as 64 YO Gloria Gilroy and her 45 YO daughter Davina Gilroy of Amanda Park. Both were former employees of the hospital.
Bank records obtained through search warrants from Gloria and Davina Gilroy show that the thefts started in September of 2015 when Davina started making direct deposits and depositing checks written to herself that she had access through with her Payroll Controller position. The thefts continued into April 2017 when Davina was confronted by staff about not paying taxes for the hospital.
On January 19th, 2018, Detectives from the Aberdeen Police Department arrested Gloria and Davina Gilroy on probable cause for multiple counts of theft in the first degree.
Gloria Gilroy was advised of her Miranda rights and invoked her right to talk with investigators. Davina Gilroy waived her rights and gave detectives a full confession. When asked what she did with the money stolen from the hospital, Davina stated that she spent it on everyday things and bought nothing extravagant. She stated that her father and uncle had just passed away and used some of the money to cover funeral expenses.
Both Gloria and Davina Gilroy will be charged through summons at the Grays Harbor Prosecutors Office. Both were released from the Aberdeen City Jail.