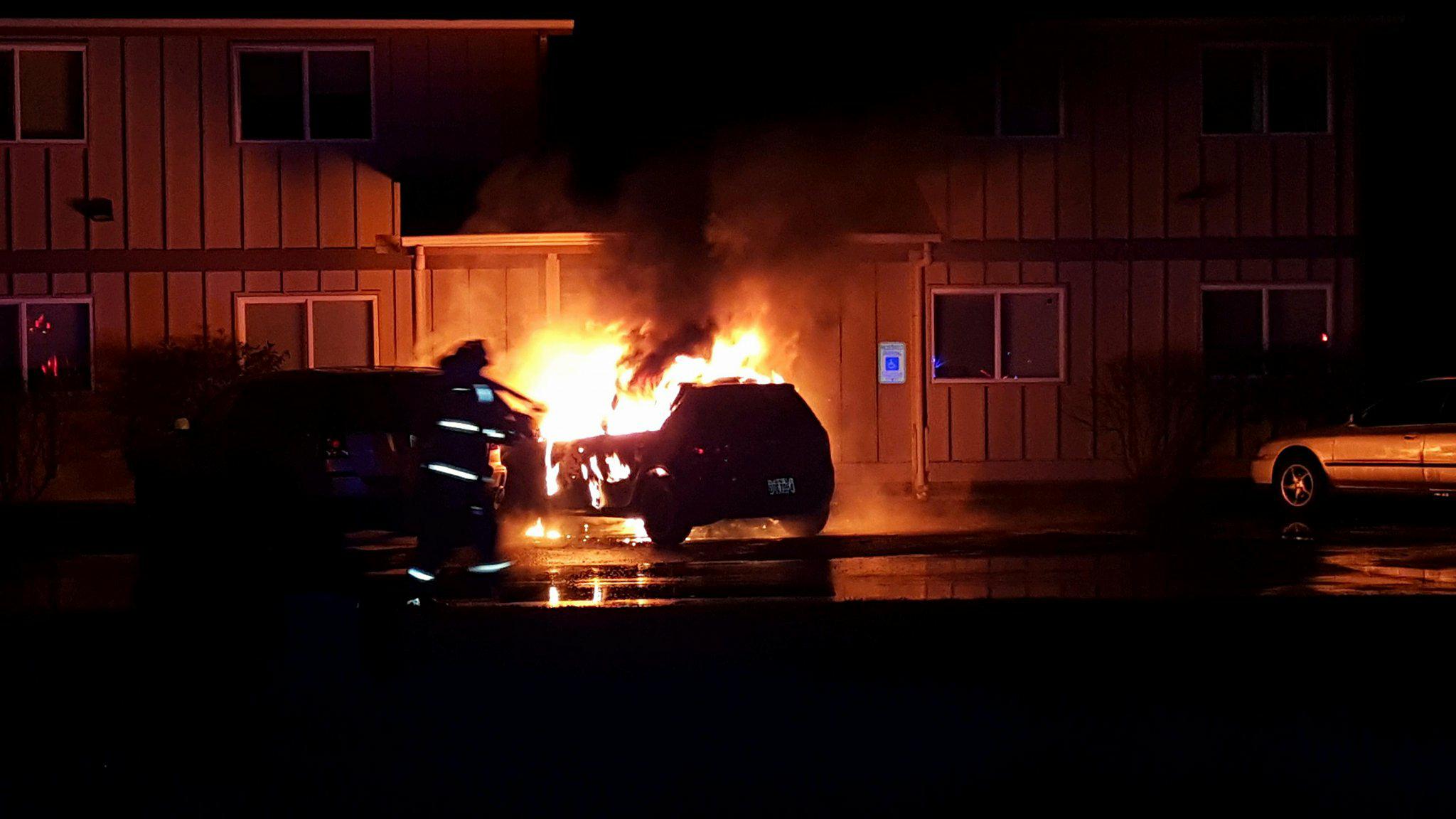 Through investigation, the Hoquiam Police Department has 2 in custody and 2 others under investigation for involvement in a vehicle fire arson case that occurred at the Riverside Apartments early Saturday morning. Here is that update from HPD
On Saturday, January 20th at 0018 hours, Hoquiam Fire and Police were dispatched to a reported vehicle fire at a parking lot of an apartment complex in the 400 block of Queen Avenue. The vehicle was reported as being unoccupied.
As officers arrived on scene they noted the vehicle was fully engulfed. The vehicle, a 2006 Volkswagen Rabbit, was parked in front of an alcove with entrances to four apartments. The flames from the fire kept the tenants from exiting their apartments. Flames were close to the building but did not cause any damage to the structure.
Fire crews arrived and extinguished the fire which had already consumed the inside of the vehicle. It was a total loss. A second vehicle parked nearby suffered several thousand dollars in damage from the fire.
Hoquiam Fire along with two Hoquiam Police Fire Investigators, which happened to be on duty at the time, investigated the scene. Several items/samples were seized as evidence. One of the items seized appeared to be from an ignition source which had been left behind by the suspect(s).
Officers were later able to track this item to a flammable liquid sold at a local store, leading to the actual store it was purchased from.
Officers learned from the female vehicle owner and her male acquaintance they had recently received threatening messages from another female. The messages were retained as evidence.
The investigation continued later in the day and police located a 22-year-old Hoquiam woman at a Hoquiam address that had sent the threatening messages. One of the department fire investigators, Sergeant Krohn, obtained a confession and she was later booked into the Grays Harbor County Jail where it is expected she will be charged with Arson in the 1st Degree.
Several more interviews were conducted revealing two more suspects who had knowledge or assisted in the commission of the crime.
A 26-year-old Aberdeen man had been picked up in Aberdeen on an unrelated warrant and was subsequently interviewed and provided a confession of his involvement. He was held on other charges and will be later transported to the Grays Harbor County Jail where he is expected to be charged with Arson in the 1st Degree.
A 36-year-old Hoquiam woman and ex-girlfriend of the victim's male acquaintance, was interviewed and had knowledge of the crime but did not participate in the commission of the crime. The prosecutor will review the investigation and make a decision on if she will be charged as the other two with direct involvement. At the very least she will be submitted to the Hoquiam Municipal Court for the misdemeanor crime of Vehicle Prowl.