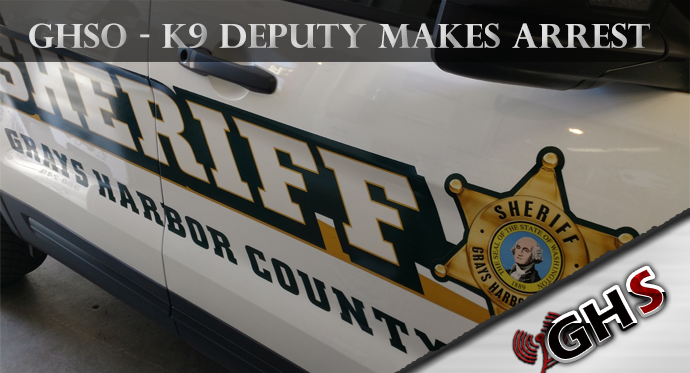 Not sure how we missed this the other day but the Grays Harbor Sheriffs Office put out an update on their short vehicle pursuit that turned into a foot pursuit and ended with the person trying to get into a residence that was not his.
K-9 Max and Deputy Gay captured a wanted felon after a short vehicle pursuit followed up by a foot pursuit. Deputy Gay attempted to stop the suspect for a minor traffic violation when he fled in his vehicle.
The suspect sped through a hotel parking lot and then continued on Monte-Elma Road. The suspect attempted to turn onto Fairgrounds Road when he lost control of the vehicle, went off the road and the became high centered on a parking barrier.
The suspect took off running on foot. Despite warnings that K-9 Max would be deployed the suspect continued running on foot. The suspect ran to a nearby house which he tried to enter.
The homeowner was home and was able to shut the door on the suspect and lock the door.
K-9 Max located the suspect near the residence and made contact with him. The suspect continued to resist arrest by fighting with K-9 Max and Deputy Gay.
Elma PD responded to assist and the suspect was eventually taken into custody.
The suspect had felony warrants for his arrest and was treated at the hospital for minor injuries resulting from the K-9 contact.
K-9 Max located another wanted felon earlier this month after a WSP vehicle pursuit.
The suspect, in this case, fled on foot after crashing his vehicle.
The suspect surrendered as he saw K-9 Max closing in on him. K-9 Max was called off prior to making contact. This suspect was taken into custody without further incident.