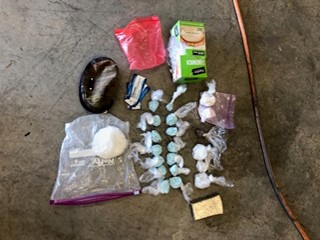 On April 12, 2023 at about 2:20 pm, the Grays Harbor Drug Task Force (GHDTF) coordinated a traffic stop with the Aberdeen and Hoquiam Police Departments on a suspected drug dealer making deliveries of illegal drugs in the Aberdeen/Hoquiam area.
The fifty-four-year-old Hoquiam man was arrested for driving with a revoked driver's license and failing to have an ignition interlock device. The Hoquiam Police Department provided their Narcotics K-9 team for an exterior search of the vehicle for illegal drugs.
The K-9 team received a positive alert of illegal drugs being in the vehicle. The GHDTF applied for a search warrant for the vehicle. Later that evening the GHDTF searched the vehicle and seized the following items from the vehicle and traffic stop:
The items seized are as follows:
• One vehicle
• $2097.00 in cash
• 186.5 grams of methamphetamine
• Approx 1329 fentanyl pills
• 97 grams of fentanyl powder
• 4 grams of heroin
• 3 packages of suboxone strips
The suspect was booked into the Aberdeen Municipal Jail on the driving offenses and later transferred to the Grays Harbor County Jail on Trafficking/Delivery of illegal drugs.
The GHDTF is dedicated to the fight against drugs and relies heavily on the partnerships of citizens and other agencies to make our communities safer. If you have information on Drug Dealers, please contact the Drug Task Force at 360-500-4141 or
This email address is being protected from spambots. You need JavaScript enabled to view it.