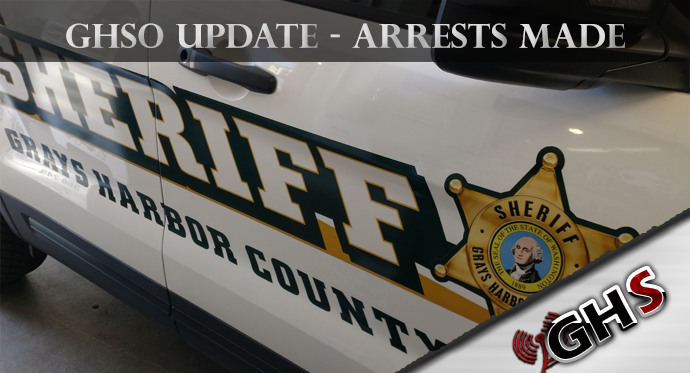 The Grays Harbor Sheriffs Department says that an observant citizen is what led to the arrest of three burglary suspects, but it was more his dogs doing.
Here is more on that incident from the Grays Harbor Sheriffs Department where multiple agencies where involved in 3 being taken into custody for burglary this weekend.
Westport PD as well as deputies with the Sheriff's Office responded to the call. A South Beach Resident Deputy and Westport Officer arrived shortly after the call and contacted the reporting party. They then checked the neighbor's residence and found signs of forced entry to a detached garage as well as other outbuildings. When the officers checked the detached garage, they found another male subject inside and he was immediately detained. The subject was identified as a 38 year old transient from Ocosta. He admitted to burglarizing the residence.
Just prior to 7:00 am, an officer with the Elma Police Department was able to provide Deputies with a possible license plate of the suspect vehicle. This information lead Investigators to a residence on S. Olympia Street of Westport. At this location, Deputies located the suspect vehicle observed in the picture that the original reporting party had provided. Deputies also observed the same dog still inside the Ford Explorer. Deputies contacted a 40 year old male and a 33 year old female at the residence. Eventually they were arrested on unrelated charges. During the search of the property, numerous stolen items were recovered from the earlier burglary in Grayland. Deputies also located a firearm. Both men, who had been arrested, were transported to the Grays Harbor County Jail and booked for Burglary as well as Malicious Mischief (damage caused to the garage and outbuildings). The male and female from the S. Olympia Street address are also facing charges of being felons in possession of a firearm. The female was released pending further investigation.
We are thankful for our citizen in Grayland who observed suspicious activity and reported it. There are still other individuals in the South Beach area that investigators are pursuing regarding the recent crimes that have been occurring. I ask that our citizens continue to be vigilant and report suspicious activity to Grays Harbor Communications Center (911 / non-emergency 360-533-8765).