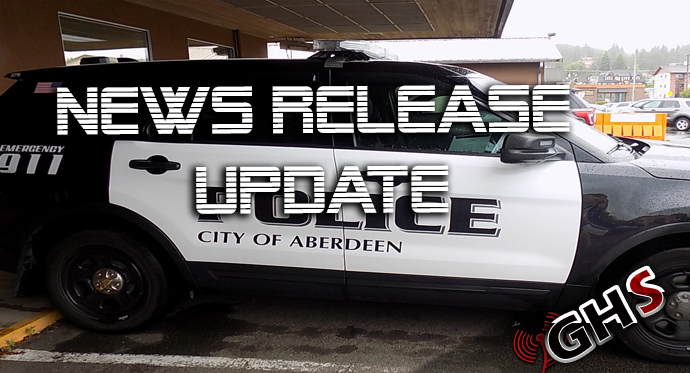 We have an update on an incident first brought to you by the team at Grays Harbor Scanner this Friday morning, September 30th where an Aberdeen Police Officer sustained injuries while attempting to take a suspect into custody. The suspect continued after several officers arrived to assist resisting arrest.
A 39-year-old Aberdeen man is in custody this morning for multiple misdemeanor charges and a felony charge of Assault 3 rd (assaulting a Law Enforcement Officer).
At about 0800 hours this morning, an Aberdeen Officer and Sergeant were on scene of a citizen assist call in south Aberdeen when they observed smoke coming from the area of the 800-block of W. Cushing Street. The officers responded to the area to investigate and located a 39-year old man tending to an illegal burn pile. Officers conducted a routine warrants check on the subject, which returned with outstanding AMC warrants.
As the officers went to place the subject into custody on his warrants, he pushed the Sergeant to the ground and fled on foot. Officers pursued the subject and caught up to him a short distance later, where a struggle ensued as the suspect continued to actively fight with officers. As they were attempting to gain control of the suspect, who was still actively fighting with the officers, the sergeant sustained a broken ankle. As this temporarily took the Sergeant out of the struggle, the suspect was able to position himself on top of the other officer, pinning him to the ground. The Sergeant re-engaged and was able to deploy his taser, striking the suspect.
The suspect was temporarily incapacitated, which allowed officers to place him in handcuffs. Even after being placed in handcuffs, the suspect continued his attempt to assault officers. Several officers from surrounding agencies to include: Hoquiam PD, Cosmopolis PD, Grays Harbor Sheriff's Office, and the Washington State Patrol responded to assist the officers' call for assistance.

The Aberdeen Fire Department responded and transported the Sergeant to Harbor Regional Health Hospital for further treatment. The other officer involved was evaluated by AFD on scene and released. The suspect was also evaluated for injuries and then transported to the Grays Harbor County Jail.