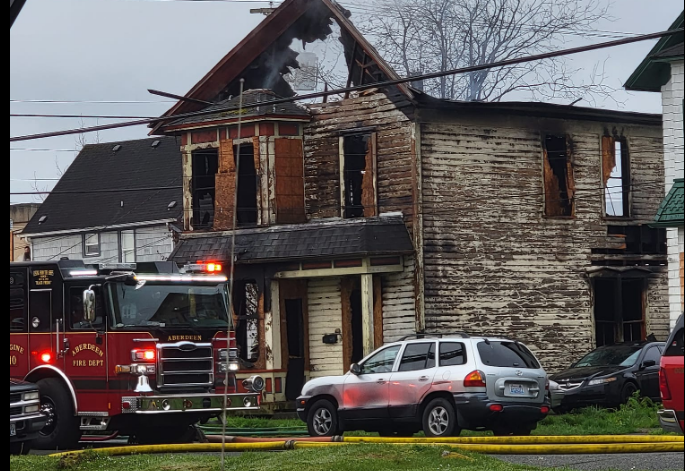 The Aberdeen Police Department says that they have a suspect in custody for a confirmed Arson that left one man dead.
On April 23rd, 2022 at about 0526 hours, the Aberdeen Police Department was advised of a fully engulfed structure fire in the 200-block of N. "H" Street. As officers arrived at the scene, flames could be seen several feet above the two-story structure and onto the utility poles. The structure was a two-story vacant residence with the doors and windows boarded up.
Officers began knocking on nearby residences to evacuate occupants for their safety due to the concern of the fire possibly spreading to other structures. While doing so, officers received information that transients were using the vacant residence for shelter and that the fire may have been intentionally set.
Officers followed-up with this additional information and were able to determine that the fire was in fact an arson after locating and interviewing people with knowledge of the fire. Due to the extensive damage to the residence, the house was not structurally safe to enter at that point.
As officers continued following up with incoming information regarding the fire, a 34-year-old Aberdeen resident, who is a person of interest for starting the fire, was taken into custody on unrelated charges. The Alcohol, Tobacco, and Firearms (ATF) was contacted and responded to assist with the investigation.
On April 25th, with the assistance of the ATF and Aberdeen Code Enforcement, the Aberdeen Police detectives served a search warrant on the residence. After assessing the structure to ensure it was safe to enter, a victim was located and removed from inside the residence. The Grays Harbor County Coroner's Office is working on identifying the victim. Friends and Family have identified the Aberdeen man that was killed as "Aaron Buchanan".
This is an ongoing investigation and anyone with information is asked to call Detective Cody Blodgett at 360-538-4414 or email This email address is being protected from spambots. You need JavaScript enabled to view it.