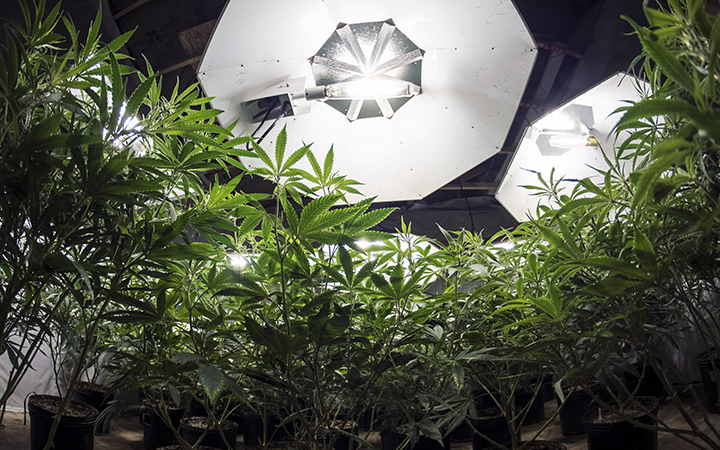 The Grays Harbor County Sheriffs Department says that illegal marijuana grow operations continue to be taken down and searched, some that they knew about and others they did not thanks to continued tips. There was even one today on N L St in Hoquiam.
Chief Criminal Deputy Shumate from the Grays Harbor County Sheriffs Department says that on On November 30 and December 1, additional illegal marijuana grow sites involving Chinese Nationals were searched in Grays Harbor County. These searches were a continuation of the operation that occurred on Tuesday November 28. Some of the searches had already been identified by the Grays Harbor County Drug Task Force as far as locations that needed to be searched/checked. Citizens have also called in with valuable information that helped identify other locations.
Yesterday, a residence on Aberdeen Avenue in Hoquiam had been searched by the Hoquiam Police Department that yielded 792 marijuana plants. Last night, another illegal grow was located at a residence on 3rd Avenue in Aberdeen. The Aberdeen and Hoquiam Police Departments collectively processed that grow site and arrested two Chinese Nationals. They have since been booked into the Grays Harbor County Jail.
Today, the Aberdeen Police Department processed an illegal grow on Morgan Street (Aberdeen). And the Hoquiam Police Department processed an illegal grow on "L" street of Hoquiam as it was being dismantled by 3 Chinese Nationals. All three individuals were arrested. Two of the subjects were determined to be subjects that had been arrested on the initial raids on November 28, but released the following day.
Also today, Grays Harbor County Sheriff's Deputies were investigating a possible illegal marijuana grow cite up the Wishkah Valley. Citizens had provided important information on this location. Deputies located the grow site that was being prepared but not to the point of being in operation.
We have received many calls from citizens who have provided valuable information about possible illegal grow sites involving Chinese Nationals. We ask if anyone has information concerning similar issues to call the Grays Harbor County Communications Center at 360-533-8765. The concern at this point is unattended grows where equipment such as heat lamps are still on. This obviously creates a fire hazard.
The Grays Harbor DRUG TASK FORCE is an interagency investigative unit with detectives assigned from the Sheriff's Office, Aberdeen Police Department and Hoquiam Police Department.