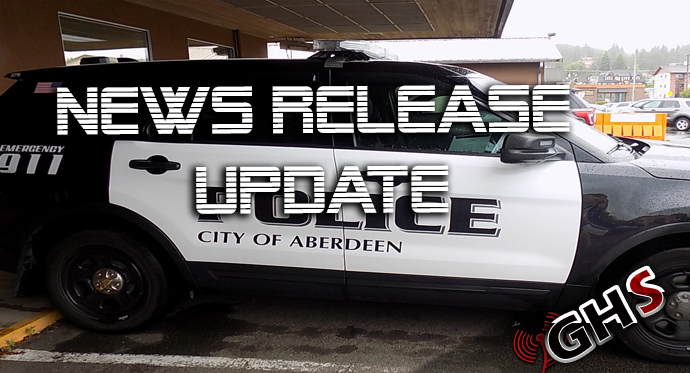 Commander Green with the Aberdeen Police Department says that they have a 30-year-old Aberdeen man in custody following a 6-hour standoff that occurred on Thursday, July 8th.
At approximately 12:03PM, Aberdeen Police Officers were dispatched to a report of a subject with a rifle inside a residence in the 900 block of Summit Street, Aberdeen. Callers were reporting the subject was threatening to kill people in the residence. As officers responded, it was reported that the subject fired a round from the rifle inside the residence.
Officers arrived and set up around the residence. Officers were able to call out the victims and witnesses as the armed subject remained in the residence. Aberdeen Police Detectives determined there was probable cause to arrest the suspect for felon in possession of a firearm and for assault in the first degree.
The Aberdeen Regional Crisis Response Unit (CRU) was activated and responded to assist. The CRU consists of officers from the Aberdeen, Hoquiam, Montesano and Cosmopolis Police Department along with deputies from the Grays Harbor County Sheriff's Office. The CRU Crisis Negotiators were conducting in-service training and were quickly on scene with a Designated Crisis Responder (DCR) in an attempt to contact the suspect and de-escalate the situation. However, the suspect refused to speak to anyone on scene.
The incident on Summit Street continued for six hours as negotiators and CRU operators attempted to de-escalate and contact the suspect. The CRU deployed a small amount of CS gas into the residence and the suspect immediately surrendered. The suspect was checked on by Aberdeen Fire Department Paramedics and transported to the Aberdeen Police Department. Aberdeen Police Detectives executed a search warrant at the residence and recovered the firearm.
Green said "We would like to thank the Washington State Patrol and Washington State Department Of Transportation for their assistance during the incident. Also, the Aberdeen Walmart donate food and water for first responders who were on scene at the two incidents"