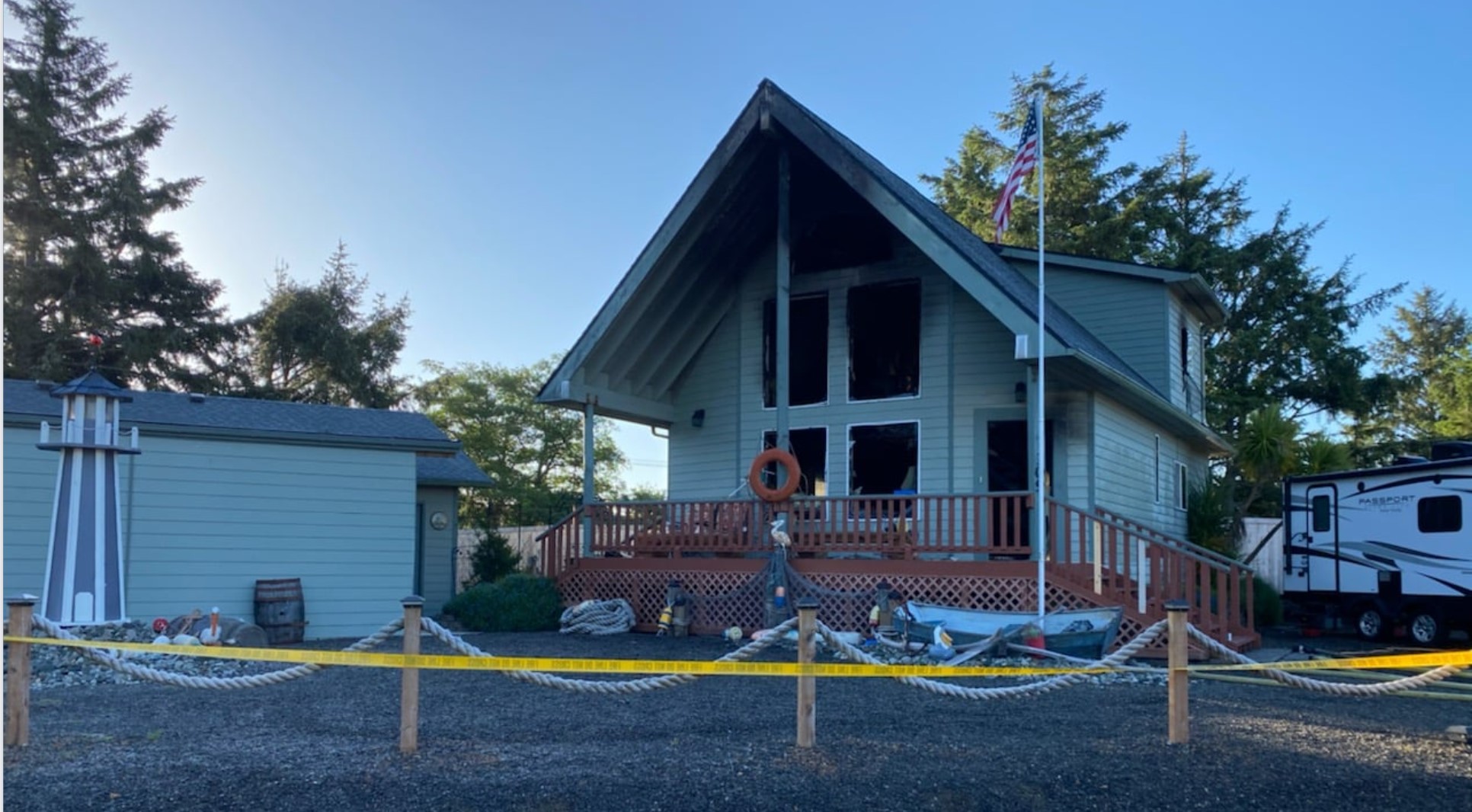 Ocean Shores Fire Chief Thuirer says that they were able to safe a home, and a dog caught in a fire on Thursday despite their staff being all out on medical transports out of the region due to all regional hospitals on divert Thursday.
The fire occurred on Thursday, June 3rd at around 7:00 pm. Ocean Shores Fire Department was dispatched to a structure fire located in the 100 block of Seagate Street SW with a dispatch report of smoke showing and upper windows broken.
Thuirer says in the social media post that the structure fire occurred while Ocean Shores Fire department was already busy with 3 ambulances transporting 911 calls to outside hospitals due to number of hospitals on divert, Grays Harbor Hospital, Summit Hospital, Capitol Medical Center, Saint Peters, and Mason General. Leaving Ocean Shores Fire Department being covered only by himself.
Upon arrival of the Fire Engine with the one responder, they found a two-story wood frame construction residential home with heavy smoke showing from a window that had already broken from the heat.
A report from witnesses on scene stated that no one was in the home, but two dogs are just inside the front door near stairs leading to the upper floor. An attempt was made to rescue the dogs initially but the heat and flames were too intense to enter the structure.
Two off-duty Ocean Shores Firefighters and Fire District #7 responded minutes later to assist knocking down the fire in the lower and upper portion of the home which allowed access to one of the dogs in the home.
Firefighters administered oxygen to the dog outside and was able to revive the dog and transferred care over to bystanders to rush the dog to Olympia for emergency care. Sadly, the other dog was not as lucky.
Chief Thuirer said he would like to thank Ocean Shores Police Department, Fire District #7 along with Cindy Thuirer and Terrie Pond who rushed the dog to Olympia. Also, retired Fire Chief Mike McGregor for his assistance.