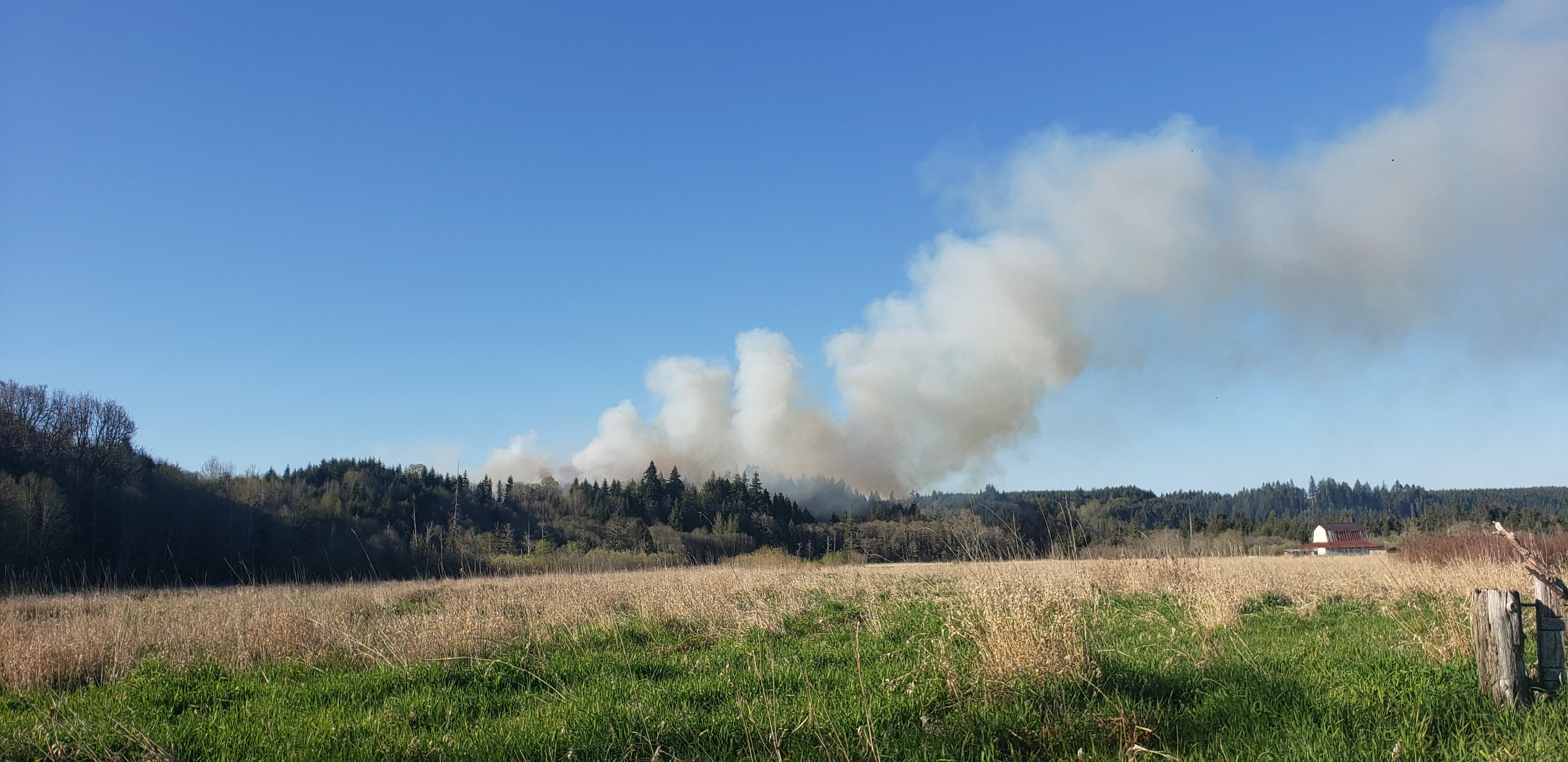 On April 18th at 4:38 pm Grays Harbor Fire District 5 was dispatched for a smoke investigation with smoke seen from Monte Elma Road and Moore Rd. At the same time, a brush fire was also dispatched for a location in the 0 – 100 block of Stephens Road. A large plume of smoke could be seen from a large distance as fire crews were arriving in the area.
Grays Harbor Fire District 5 crews responded to the Stephens Rd location and Grays Harbor Fire District 2 was requested for mutual aid to investigate the Moore Road Smoke investigation.
The two calls were later linked as one fire that spanned from a starting point off of Stephens Road and spanned approximately 40 acres between the starting point to logging roads with access points on Moore Rd.
Residents off of Moore Road were put on notice to keep watch on the fire, and that they could be told to evacuate due to the fire spread and wind directions with assistance from the Grays Harbor County Sheriff's Department.
At 7:27 pm fire crews had a good portion of the fire knocked down at the original starting point of the fire (Stephens Rd) however, the fire burning towards Moore Rd in dense brush and trees was still active.
At 9:30 PM fire crews from Washington State DNR were working on taking over the scene along with the regional wildland strike force. 4 DNR hand crews, 2 crews from the regional strike team, and one DNR engine will remain on the scene overnight working on getting the rest of the fire contained and out. Weyerhaeuser had requested 2 bulldozers and other equipment to also assist in containment. At 1130 pm Washington State DNR Took over full command of the incident and all local fire teams were cleared with exception of a brush unit from Fire District 5 remaining on scene to assist.
Responders from Grays Harbor Fire District 5, Elma Fire, Fire District 2, Fire District 1, Fire District 12, and Montesano Fire all responded to assist in getting this fire under control.
We are seeing that with the cooler temperature and rise in humidity that the fire has started to lower and expect it to lay low overnight.
Grays Harbor Fire District 5 wants to thank all the different agencies that responded to assist in containing this fire. This was a challenge due to the span of the incident in the distance the fire traveled so quickly and the dry weather we have been experiencing.
The cause of the fire is under investigation.