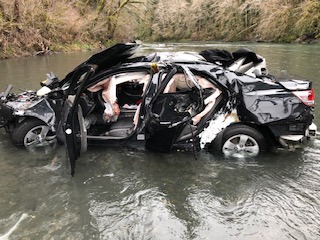 A 25-year-old man survived with hypothermia and apparent minor injuries after the car he was driving left U.S. Highway 101 at the Hoh River Bridge, and went 260 feet in the air, landing in the river.
According to the Washington State Patrol, David Valdivias, 25, of San Carlos, California, was driving a 2013 black Chevrolet Malibu four-door sedan at a high rate of speed northbound (toward Forks) on in west Jefferson County. The vehicle left the roadway to the right, collided with the guardrail and became airborne, struck a tree and continued through the air for a total of 260 feet.
According to the Jefferson County Sheriff's Office, at 8:34 am Feb. 12, 2021 a fisherman called 911 to report a car in the Hoh River near Oxbow Campground and the Hoh River Bridge, about 20 miles west of Forks.
JCSO Deputy Gene Hoagland responded and located the driver on the river bank near the smashed vehicle, which was on its wheels in shallow water. Further investigation showed the vehicle had left the roadway at the Hoh River Bridge about 10 pm on Thursday, Feb. 11, and the driver was the 2013 Chevrolet Malibu's only occupant.
The 25-year-old man from California was treated at Forks Community Hospital for hypothermia and multiple contusions. He was later airlifted to Harborview Medical Center in Seattle.