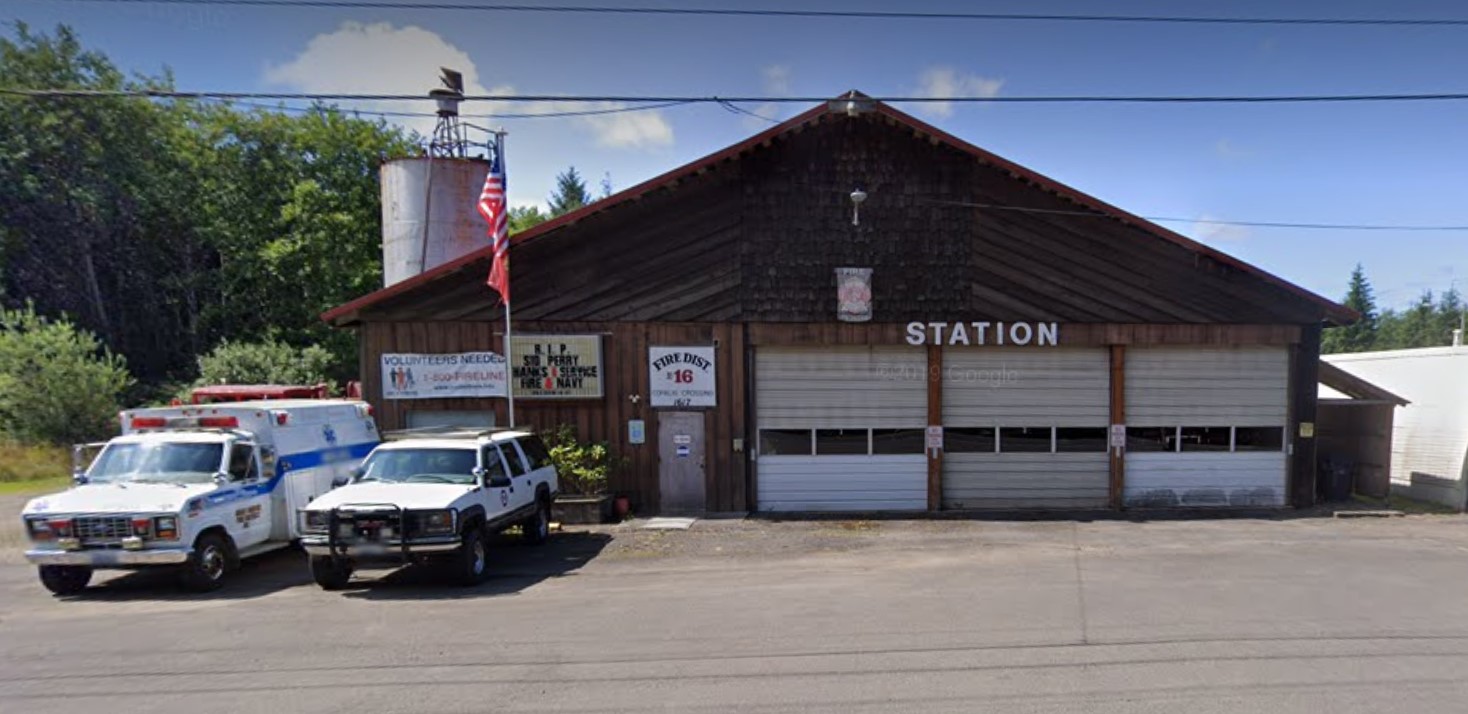 Copalis Crossing, Fire District 16 is saying that after many years of struggling to recruit and retain volunteers to staff Fire and Emergency Medical Services (EMS) for the residents of Grays Harbor County Fire Protection District No. 16, the Board of Fire Commissioners have made the decision to merge their Fire District with the neighboring District to the west. Grays Harbor County Fire Protection District No. 7 currently serves the areas of Copalis Beach, Ocean City, and North Bay. Fire District No. 7 has agreed to expand their primary response area to encompass that currently covered by Fire District No. 16
They say that Personnel shortages and the increasing number of unfunded state and federal mandates has created a growing trend of rural fire districts merging to combine resources and reduce costs. Fire District No. 16 currently has only 5 firefighters who all work outside the district and
has no medical responders residing within district boundaries. Fire District No. 7 currently covers the fire and EMS calls of Fire District No. 16 with their paid staff from 8:00 AM to 4:00 PM daily and volunteers around the clock who are ready to respond and transport when necessary. Fire Districts 16 and 7 have had Automatic Fire and EMS Response Agreements in place for years. The two Fire Districts have trained, responded and worked closely together for this merger to benefit the residents of both districts now and in the future. Fire District No. 16's Advanced Life Support (ALS) contract with The City of Hoquiam Fire Department will not change; but, will be supplemented by Fire District No. 7's (ALS) contract with The City of Ocean Shores Fire Department.
By merging with Fire District No. 7, there will be no interruption in the emergency services relied on and currently received (from Fire District No. 7). Combining the current fire apparatus inventory of both districts would offset expensive repair/replacement costs to keep our aging fleet in compliance with current testing requirements. Fire District 16 personnel would be part of a team that benefits from the many grants that Fire District No. 7 has received to replace gear and equipment.

They say that without this merger, the residents of Fire District 16 will not become part of Fire District 7's primary EMS and fire response area and fire insurance rates will increase drastically due to Fire District No. 16 not meeting the minimum staffing requirements for adequate fire
response established by the Washington State Rating Bureau.

The residents of Fire District No. 16, are why they volunteer. Your health and your safety are why they are here, and it is their duty to provide you with the very best care possible when you need it most. A merger requires approval by at least 60% of the registered voters from the merging district, therefore, the Fire Commissioners are asking each registered voter who resides in the District to agree to this merger.
Due to the current COVID-19 virus issues, they will not be holding a public
meeting or going door to door as we are unable to ensure adequate social distancing.
You can also contact fire commissioner Larry Butler by email: This email address is being protected from spambots. You need JavaScript enabled to view it. or by phone 360.589.1184 with questions.