Ten years ago, the Museum of the North Beach rescued a historic 1912 wooden Northern Pacific Caboose. The caboose had been used as a nightly rental in Moclips, and a new owner wanted it removed from their property. Our membership collected funds to have it moved seven blocks to the Washington State Parks day-use park in Moclips, the original site of the Northern Pacific Railway depot. If you go to YouTube and search "Moclips caboose" you'll see a few short videos of the move to State Parks property in 2009 taken by Stephanie Allestad.
This particular piece of railroad history is very important to Moclips by the Sea Historical Society as it was on the last train to Moclips before the tracks were torn up in the 1980's by the Burlington Northern. We are now preparing to move it again.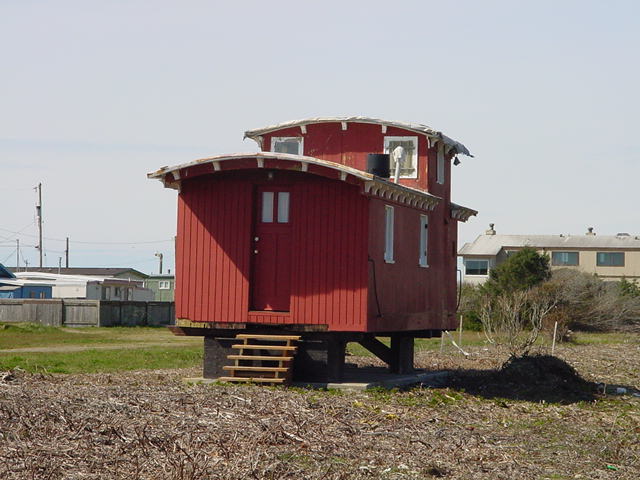 The move will take place Saturday, June 29, 2019, for the move, which will be orchestrated by Bruce Thompson (New Museum Project Site Manager) and Reggie Riekkola of Riekkola Construction. The transport will begin around noon and travel along State Route 109, 1-1/2 miles to the new museum building site at 4658 WA-109, Moclips, WA 98562. This will be an extraordinary event as you don't see cabooses moving down a highway and the fact that they are no longer being used by railroads.
Moclips by the Sea Historical Society has partnered with the North Beach Community to build a replica of the Northern Pacific Railway's Moclips Depot, which will house a brand new Museum of the North Beach - displaying the Historical Society's ever-expanding collection of artifacts and research material. In 2015, the Ocean Crest Resort donated four parcels of beautiful park-like land about 3 blocks south of the current Museum. The new museum building will be a replica of the Northern Pacific Railway depot at Moclips, built in 1905 and taken down in the later 1950's due to dilapidation.
Located on the Hidden Coast Scenic Byway (SR109), the New Museum Depot Project is on track to be a featured tourist destination. Please consider giving a contribution, or matching grant pledge, to the Museum of the North Beach. Help provide a strong foundation to our present and future efforts and be a part of history in the making.