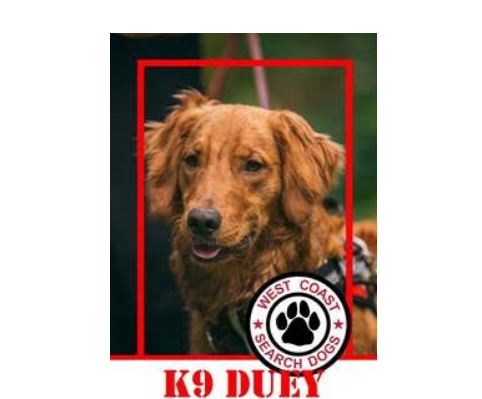 Earlier this week The Grays Harbor Sheriff's office assisted the Quinault Indian Nation on a search for a missing man in the Amanda Park area of the county. Search dogs and ground searchers were requested to assist. Search dog "Duey" and his handler Shay Jones arrived and found the missing man about 15 minutes after their arrival. It was his first mission!
Duey was newly tested as an air scent dog just a few days ago. Kudos to "Duey" and Shay!
The West Coast Search Dogs, (of which "Duey" is a member), and the Search Dogs from Grays Harbor Volunteer Search & Rescue, and their handlers are often requested for not only Grays Harbor County Searches, but for many other area searches because of their professionalism , training, dedication and success, while providing services to those in need. They DO NOT receive funding for their efforts. They train and respond using personal dollars.
It is a testament to all of the various dog teams and search and rescue teams throughout the state, of their willingness to assist at any time, day or night, extreme heat or freezing cold, 365 days each year. These teams are highly successful in finding those lost and in need of assistance.
Please join Grays Harbor County Emergency Management in thanking all of our local dog teams, their handlers and our local search and rescue members, as well as those from across the state. Also, let's not forget to congratulate "Duey" on his success on his very first mission. Way to go!