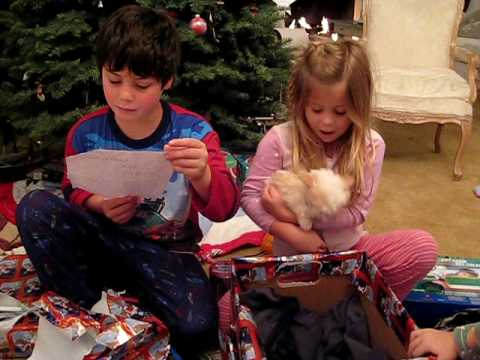 File photo, this is not a photo of local kids getting present.
The gift of giving is more powerful than receiving gifts, and sometimes giving to those in need is, even more, stronger during the holidays.
We here at Grays Harbor Scanner had that opportunity to give to a mother and kids in need this week so that she could provide her kids a Christmas and there is nothing more powerful than walking away from that with a smile on your face knowing you just did that.
A few weeks ago GHS was approached by Brian, Public Information Officer for Grays Harbor Fire District 5 asking about posting looking for someone that may be interested in adopting a family for the holidays. They had a mother and 2 children contact them asking for help, but most churches and charities had already had their deadlines passed and families full. As the head administrator posted the question to the admin team, he accidentally did the post on the page instead of to our private group.
The result was a pm to the page from several people and groups wanting to help out. The assistant head admin for the page took charge of the project to see about getting this mother and her kids a Christmas. After a few days, we had a group chosen and were communicating back and forth about the needs and plan. We had a backup plan going as well just in case which was a good thing. Sadly communications were dropped by who we were expecting to hear from and some decisions had to be made.
We here at GHS had pooled already enough donations to get some of the presents not only for the children but the mother as well and some gift cards. All we had to do was figure out the dinner portion, and had enough donations from our own team to do this.
Today, Sunday was the day we gave to the mother and kids, and I can attest there is no better feeling than the gift of giving.
Our team did not stop with just one family, we pooled enough donations within ourselves and used GHS Advertising funds as well to serve up another Christmas for a mother and daughter. I know we all wish we could have done more and found a way to serve more families but that is just the 7 of us, and there are so many people in need out there.
There are several organizations out there that try and do more and more every year for families. A quick call out that we did this morning just gives a small glimpse at organizations that provide Christmas for families around the harbor.
Steve Wayne, and his bicycles for kids provided 34 - 38 kids this season.
Simpson Ave Grill with their giving tree
Harbor Wholesale Foods with employee donations and owner match donating to about 6 families through the Salvation Army
The Montesano Vets Club
And the Aberdeen VFW Auxiliary Post 224. the Auxiliary had delivered 5 Christmas baskets to Veteran families in the Aberdeen area. they also shopped for Christmas presents for 6 kids in the families.
We know there are a lot of people asking how do we get on these lists, and how does one find out about these. I know that most of them do not advertise in large social places because there would be such chaos going through the overwhelming applications, requests and demand for help. GHS sees a lot of comments from some always putting their situation out there for others to see, and you never know who really does or does not need the help.
If you are in the position to give we recommend it, we can always take names down and if we get requests forward them on. Just like us here at GHS we were diligent in checking to see that those they gave to were indeed in need, and deserving of the gifts. We suggest that families and businesses do the same.